May 21, 2010
Posted: 03:28 PM ET
Somehow, the political world survived 'Mini Super Tuesday,' and for those of you who paid attention you saw incumbent Senator Arlen Specter defeated by fellow Democrat Joe Sestak in Pennsylvania, while in Kentucky a tea party favorite, Rand Paul, won the GOP nod for Senator.
Meanwhile, back in DC, President Obama welcomed Mexican President Felipe Calderon and hosted the 2nd State Dinner... sans party crashers this time (the Salahis did make news on the same night, though)
While those were big news stories this week, you may have missed some other ones.  Lucky for you, we've got them here:
1. There's a rat at the White House.  No, it isn't another "Deep Throat."  It really is a rat. (NYPost)
2. We learned how much Bo, the first dog, is worth.  We would have thought he was priceless, but nope, there's an actual dollar figure.  See how much he is worth HERE (NYTimes)
3. Chuck Norris spoke at the National Rifle Association's convention in Charlotte, NC. This is really just a reason to post a 'Chuck Norris Fact' – ("There is no chin behind Chuck Norris's beard. There is only another fist"). (Politico)
4. Mitt Romney's childhood home in Michigan was declared 'a nuisance' and is slated for demolition.  He's probably OK with this news since he has a great home in Southern California now.
5.  To cap the week off, there was a SLIGHT misstep at the White House on Wednesday night for the State Dinner:
[youtube=http://www.youtube.com/watch?v=rQQOTNgCmGw]
Posted by: LKL Producer Hunter Waters
Filed under: Chuck Norris • Mitt Romney • Politics is King • White House
March 25, 2009
Posted: 10:20 AM ET
By actor Chuck Norris
Do you ever wonder how we can conquer the Middle East but can't close our own borders?
In the news just this past week was this small sampling of headlines: "Locals, Feds Prepare for Any Escalation of Mexican Border Violence"; "(New Mexico) delegation asks for border task force"; "Texas lawmakers angered by border security money being spent in other regions"; "U.S. Sues Railroad Over Smugglers"; "Border drain open for hours before 8 entered it."
More than 7,000 lives have been lost in Mexico's drug wars in just the past 14 months. Nine in 10 guns recovered from those crime scenes have come from the United States. Border towns are experiencing outrageous escalations in crime, including more than 300 drug-related kidnappings in Phoenix alone in 2008. (Most involved Mexican immigrants with ties to drug cartels.)
Isn't it time we finally built a wall that works? Isn't it time for us to quit restricting our border agents by granting illegals more rights than our citizens? Isn't it time we post military personnel at particularly hot illegal crossings?
Instead of shifting tens of millions of dollars from investigating employers guilty of hiring illegal immigrants to fighting Mexican drug cartels, the Obama administration should leave that money alone and hunt down the $100 million-plus that AIG executives robbed from taxpayers for their bonuses.
Filed under: Chuck Norris • Mexico
February 17, 2009
Posted: 08:00 AM ET
by actor Chuck Norris
There they go again! The House and Senate have buried us in yet another bailout-stimulus heaping pile of fiscal dung - a $789 billion loan that has been tacked onto our children's (and children's children's) already staggering $10-plus trillion deficit. Are you just going to sit there and take another one up the tailpipe?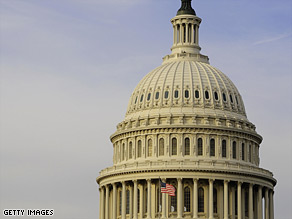 Though President Obama emphatically declared that this 1100-page piece of legislation does not contain "a single pet project, not a single earmark," it's full of some type of financial fluff.
Call it what you will, but few knew recessionary needs included $2 billion for battery companies, $2 billion for the National Parks Service, $2.3 billion for NASA and the National Science Foundation, $1.1 billion for airport improvements, $850 million for Amtrak, $800 million for federal prison construction, $300 million for additions to the federal fleet, $200 million for new Department of Agriculture buildings, $165 million for fish hatcheries, $100 million for the FBI, $100 million for shipyards, $50 million for an arts endowment, etc. (A detailed list of the stimulus package expenditures can be reviewed on the website of Patton Boggs legal firm at http://www.pattonboggs.com.)
(Read more of Chuck Norris' commentary HERE)
Filed under: Chuck Norris • Congress