May 11, 2009
Posted: 11:57 PM ET
By Drew Petrimoulx via WDBO
Three more witnesses were deposed Monday by Casey Anthony's defense.
The depositions center around what happened on August 11, 2008 in the same woods where Caylee Anthony's remains would be found four months later.
Meter Reader Roy Kronk(pictured) told fellow employees he thought he saw a skull that day. His tip to Crimeline was responded to by Deputy Adriana Acevedo who was among the three witnesses questioned by defense attorney Jose Baez. Acevedo told investigators that she never met with Kronk and only did a limited search in response to his tip.
David Dean, another meter reader, was deposed by Baez. He was with Kronk on August 11th. Dean told investigators that Kronk said he spotted what he thought was a skull in the woods, but they got distracted after spotting a dead rattlesnake.
Filed under: Caylee Anthony • Crime • Larry King Live
May 9, 2009
Posted: 06:06 PM ET
In a special series entitiled "Timeline: Casey Anthony 1 Year Ago," Local 6 News reviews what has happened in the Casey Anthony case over the last year.Anthony, 23, remains jailed on first-degree murder charges in the death of her daughter, Caylee, whose remains were found in December.
Caylee was 2 years old when she was reported missing in July, about a month after she was last seen alive.The case has drawn international attention, and Anthony is scheduled to go to trial in October, although that date could be pushed back.On May 6, 2008, Anthony exchanged computer messages with one of her lovers, then-Orange County sheriff's Deputy Anthony Rusciano, referring to Caylee as a "snot head.""Bring your fine little (expletive) over here sometime today," Rusciano typed to Anthony."God, I'm so sick of having to rely on other people," replied Anthony, claiming she's "playing phone tag both with Zani," the mystery nanny, "and my mom." "Want me to bring the little snot head?" Anthony asked.
When Rusciano did not reply, Anthony wrote "didn't think so."Anthony later typed "if my nanny can baby sit tonight, I'm set. If not, I'm screwed."By nightfall, Anthony seemed resigned to the fact that she could not leave."I'm sad. I've been sad all day, I've been sad for days," Anthony typed. "Too bad I can't move out tomorrow. (It) would make some of this a lot easier.""And just think of all that's happened since May 6, 2008.
(Read More Local Coverage from Click Orlando)
Filed under: Caylee Anthony • Crime • Larry King Live
April 14, 2009
Posted: 04:09 AM ET
NEW YORK (CNN) - In a dramatic reversal, the Florida state attorney's office announced Monday it will seek the death penalty against Casey Anthony, the 23-year-old woman charged in the death of her 2-year-old daughter Caylee.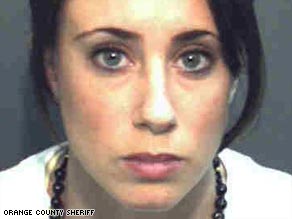 Casey Anthony is charged with first-degree murder in the slaying of her daughter Caylee, 2, Trial is set for October.
The state had previously said it would not ask for the death sentence for Anthony.
The development could have a major impact on how the case plays out at trial, including whether defense attorney Jose Baez can stay on the case.
Baez has not been certified by the court to defend capital punishment cases.
Prosecutors announced their change in strategy in a letter of intent. Read the letter of intent (pdf)
Meanwhile, Anthony's defense filed a motion on Friday with Orange County Circuit Court, seeking more phone records from a dozen people involved in the case. The motion asks for any and all records for "phone calls, text messages, P2P communications, Internet usage, WAP usage, and cell tower pings."
The defense wants records from the defendant's parents, George and Cindy Anthony; her former fiancé, Jesse Grund; her brother, Lee Anthony; a friend, Amy Huizenga; and Roy Kronk, the meter reader who found Caylee's remains in December of last year.
Filed under: Caylee Anthony • Crime • Larry King Live
March 19, 2009
Posted: 08:55 AM ET
via local 6
ORLANDO, Fla. - Casey Anthony turned 23 years old on Thursday, a birthday she will spend almost entirely in her 12.5-by-7-foot cell.  Anthony remains jailed on first-degree murder charges in the death of her daughter, Caylee, whose remains were discovered in December. Caylee was 2 years old when she was reported missing five months earlier.
Anthony only has a visit scheduled with her lawyer, and she likely won't make any phone calls on her birthday. Inmates receive no special treatment on birthdays or anniversaries.At a memorial service for Caylee in February, Anthony's father, George Anthony urged the public to reach out to his daughter."She deserves letters. Take the time to write a letter to her. Just say, 'Hi Casey, I'm thinking about you today," George Anthony said.
Casey Anthony's attorney screens her mail, however, and it's not known how much, if any, is passed on to her.
Filed under: Caylee Anthony • Crime • Larry King Live
January 23, 2009
Posted: 08:36 AM ET
UPDATE: A despondent George Anthony was found alive this morning in a Daytona Beach motel with a what appeared to be a suicide note after his family reported him missing late Thursday.
(Read LOCAL REPORT HERE)
The grandfather of slain Florida toddler Caylee Anthony was taken into custody early Friday after being reported missing late Thursday, sheriff's deputies and a family attorney said.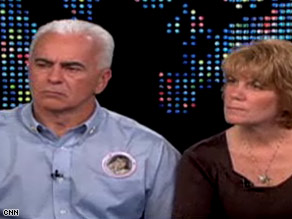 Detectives found George Anthony at the Hawaiian Inn Hotel in Daytona Beach at 2:30 a.m. ET Friday, said Jeff Williamson, a spokesman for the Orange County Sheriff's department.
Brad Conway, the Anthonys' attorney, told CNN affiliate WFTV that Anthony was taken into custody under Florida's Baker Act, which allows the state to hold people involuntarily pending a psychiatric evaluation.
Anthony has been embroiled in a crime saga involving his daughter, Casey Anthony, and his 2-year-old granddaughter Caylee.
Filed under: Breaking News • Caylee Anthony
December 10, 2008
Posted: 02:58 PM ET
**UPDATE: CINDY AND GEORGE ANTHONY WILL BE BACK ON LARRY KING LIVE FRIDAY NIGHT TO RESPOND TO TODAY'S BREAKING NEWS**
**BREAKING NEWS UPDATE: The remains of a young child were located in east Orange County Thursday morning, less than a half-mile from Casey Anthony's parents' home, according to the Orange County Sheriff's Office. (Read Here)
Cindy and George Anthony are the granparents of Caylee Anthony, who has been missing since June. Their daughter, Casey Anthony, is currently being held in Florida and has been charged with murder in the case.
Cindy and George Anthony's commentary is an LKL Blog Exclusive.
WOULD YOU TURN YOUR BACK ON YOUR CHILD? THEN WHY ASK US TO TURN OUR BACK ON CAYLEE MARIE…
So many people want to put their theories out there for public speculation and opinion. There is only one true fact that has been ringing true since the beginning of this case, that being that there is a missing child.
Caylee Marie Anthony is a beautiful 3 year old child who has just recently captured the hearts of so many; but please do not forget that she had already captured the hearts of her family from the very moment that she was born.
So many want to see an end in this case, but how can that be until every effort has been made to follow up on every lead. Just ask any family member of a missing person if it is ever over for them, as long as the one they love has not found.
Many are quick to judge and criticize our actions, to those there is only one appropriate response, until you've walked in our shoes...then tell us that you would turn your back on your beautiful child.
- Cindy and George Anthony
For more information go to: http://www.helpfindcaylee.com/
Filed under: Caylee Anthony • Larry King Live