A lawyer filed Michael Jackson's will written seven years ago with the Los Angeles County Probate Court on Wednesday morning, court officials said.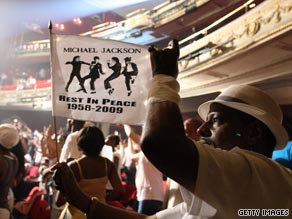 Also Wednesday, more than two dozen TV satellite trucks lined a narrow, two-lane road leading to Neverland Ranch, jostling to reserve space for a public viewing of the pop icon's body later this week.
Jackson's body will be taken to the ranch, north of Santa Barbara, California, on Thursday in preparation for viewing Friday, a law enforcement official said. The family plans a private service Sunday.
The question of what killed Jackson last week has gone unanswered pending toxicology results. Fans across the globe Tuesday continued to mourn Jackson five days after the 50-year-old singer went into cardiac arrest.
In New York, thousands lined the streets Tuesday outside Harlem's Apollo Theater, the hall that helped launch Jackson's career.
Filed under: Breaking News • Larry King Live • Michael Jackson