It's OK for Republicans to want President Obama to fail if they think he's jeopardizing the country, Louisiana Gov. Bobby Jindal told members of his political party Tuesday night.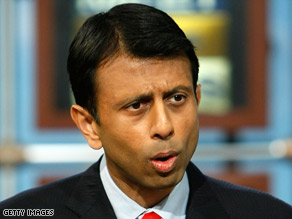 Jindal described the premise of the question - "Do you want the president to fail?" - as the "latest gotcha game" being perpetrated by Democrats against Republicans.
"Make no mistake: Anything other than an immediate and compliant, 'Why no sir, I don't want the president to fail,' is treated as some sort of act of treason, civil disobedience or political obstructionism," Jindal said at a political fundraiser attended by 1,200 people. "This is political correctness run amok."
Since conservative radio talk show host Rush Limbaugh said that he hoped that Obama would fail, Republicans have been pressed by Democrats and the media about Limbaugh's comments.
Jindal, a potential 2012 presidential candidate, told the Republican audience he would "not be brow beaten on this, and I will not kowtow to their correctness."
Filed under: Bobby Jindal
(POLITICO) Gov. Bobby Jindal has a wunderkind resume: a Rhodes Scholar appointed assistant secretary of Health and Human Services at age 29, elected to the U.S. House at 33 and governor of Louisiana at 36.
Increasingly, though, he's being likened to Kenneth, the dweeby page on "30 Rock."
The politically devastating comparisons started popping right up after Jindal delivered the Republican response to President Barack Obama's address a joint session of Congress. And they've spread like wildfire on the Internet.
"Close your eyes and think of Kenneth from '30 Rock.' I can barely count the number of e-mails making that observation," Andrew Sullivan wrote on his blog minutes after Jindal's speech. The comparison was also made that night by Talking Points Memo, The Huffington Post and Gawker.
Now the wunderkind governor, who's often mentioned as a GOP presidential prospect, is struggling to overcome his association with this generation's version of Gomer Pyle. And his predicament is organic, as opposed to the biting parodies of Sarah Palin on "Saturday Night Live."
Several Facebook groups dedicated to the comparison have sprung up. The latest, "Bobby Jindal is Kenneth the Page," had more than 20,000 members on Friday. In comparison, nearly 34,000 people list themselves as fans of Jindal on the social networking site.
Filed under: Bobby Jindal • Politics