Tonight, Larry talks to financial experts Ben Stein, Dave Ramsey, Don Peeples and CNN's Ali Velshi, host of "Your $$$$."  Is the recession deepening?  Is there more bad news to come?  With that, we want to know what YOU are doing to save money now.  So, that's our "Question of the Day!"
Share you money-saving tips with us.  And tune-in to the live program tonight at 9 p.m.  We just may use your comment on the air.
Also tonight, Louisiana Gov. Bobby Jindal talks to Larry in his first interview since responding to Pres. Obama's congressional address.   It's a Larry King exclusive.  We'll also ask him about Rush Limbaugh and the current state of the Republican Party.
Please:
1) Stay on topic.
2) Keep it short
3) No curse words
4) No links
5) Use a name (no initials or screen names)
Filed under: Ben Stein • Bobby Jindal • Larry King Live • Question of the Day
It wasn't a fair fight. Watching Louisiana Governor Bobby Jindal's painful, sing-song response to President Barack Obama's powerful and plain-spoken speech felt like watching an over-eager child trying to box Muhammad Ali.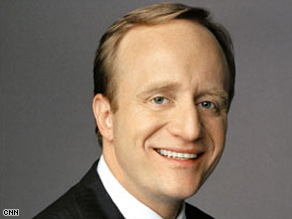 The kid was flailing wildly, while Ali just held the kid's head at arm's length, all the while smiling benignly. The kid's arms whirled like windmills, but he never got close to connecting with the champ. President Obama was confident and compelling; Gov. Jindal had all the saccharine sincerity of a Disney tour guide.
Jindal reached his reductio ad absurdum when he suggested progressive and proactive Obama-led government could not be trusted to fix our economic problems because corrupt and incompetent Bush-led government had screwed up Katrina. But if it is Pres. Bush who haunts Gov. Jindal's past, it is Rush Limbaugh who haunts his future. One of the lesser-known laws of politics is that you can survive your enemies; it's your friends who do you in. So it is with Bobby Jindal. The governor of Louisiana has come a long way in a little time.
A formidable politician, he wrested the governor's mansion away from Bayou State Democrats. But can he survive the love of the right-wing Republicans—especially their leader, Rush Limbaugh?
Filed under: Bobby Jindal • Paul Begala