June 2, 2010
Posted: 08:28 AM ET
(via Cybernetnews)
You may THINK you know a lot about Bill Gates, but here are some interesting facts about one of the world's most famous innovators!
1. His SAT score was 1590. The top score for the test is 1600.
2. In 2002, Bill Gates was considered more idolized than Chinese Communist leader Mao Tse-tungin a poll of teenagers in Hong Kong and China.  The survey was conducted by the City University of Hong Kong.
3. If he drops a thousand-dollar bill, he needn't even bother to pick it up because in the four seconds it would take him to pick it up, he would've already earned it back.
(Read more from Cybernetnews HERE)
One thing you SHOULD know about Bill Gates is that he will be on 'LARRY KING LIVE' tonight at 9pmet, along with his father!  Tune in tonight, and start the comments on what you want to ask him!
Posted by: LKL Producer Hunter Waters
Filed under: Bill Gates • Larry King Live • Technology
May 28, 2010
Posted: 09:55 AM ET
Musician, performer, recording artist -
Lady Gaga will be Larry's guest on Tuesday!
What are your questions for LADY GAGA?

Plus! Even more top guests stop by to help Larry celebrate the show's 25th anniversary:
American Idol Finalists, Bill Gates, and a surprise!
Filed under: Bill Gates • Lady Gaga • LKL 25
February 11, 2009
Posted: 08:09 AM ET
by Bill and Melinda Gates
Like many Americans, we are impressed with the goals outlined in the Obama administration's economic stimulus package, goals that would promote short-term economic recovery but also jump-start needed reforms in key areas like public education, which in turn will accelerate long-term economic growth.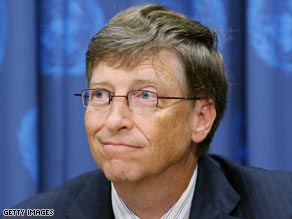 We need an economic stimulus that also stimulates American education.
After decades of leading the world in high school and college graduation rates, the United States is now falling behind. Our achievement levels are roughly flat over the past three decades while nations around the world are surging ahead. We are certain to emerge from the current economic crisis eventually, but it is just as clear that we will not retain our global economic leadership unless we regain our edge in education.
(Read more of the Gates' commentary HERE)
Filed under: Bill Gates