March 11, 2009
Posted: 05:47 PM ET
Tonight, CNN's Chief Medical Correspondent, Dr. Sanjay Gupta fills in for Larry and his first guest is former President Bill Clinton!  His administration tried to revamp America's healthcare, but failed. 
What does he make of President Obama's plan?  He'll talk to Sanjay about that and more.
Then, an exclusive with Christopher Reeve's daughter!  Alexandra Reeve speaks out on President Obama's order for an increase in government funding of stem cell research.  What does she think of the decision her father fought so hard for?
It's all tonight as Sanjay Gupta guest-hosts on "Larry King Live," at 9 p.m., ET.
As always:
1) Stay on topic.
2) Keep it short
3) No curse words
4) No links
5) Use a name (no initials or screen names)
Filed under: Bill Clinton • Larry King Live
March 4, 2009
Posted: 10:28 AM ET
It was surprising enough when Justin Timberlake showed up at the New York Academy of Art's annual Tribeca Ball last night and meandered through the booths, asking the students about their work. (One student told us that JT made detailed inquiries about technique and mentioned he wanted to take a painting class.)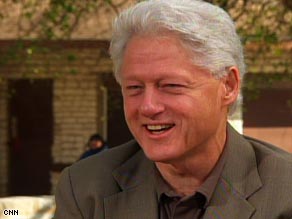 But it was downright shocking when, later that evening, Bill Clinton walked in the door. "I just finished a thing at Madison Square Garden with Billie Jean King and I got invited by Eileen Guggenheim and I had some time, so I thought I'd swing by afterwards," he said, strolling toward the ballroom, which had been painted like a black-and-white forest and was lined with replicas of Greek figurative statues. "Oh, now isn't this fantastic!"
We asked the president if he himself had any artistic talents. "Most people would say no," he said, laughing. "But I'm very interested. I've been reading a lot about people who took up painting in later life. Hillary and I actually have two paintings at home from Tony Bennett, who is a good friend. Winston Churchill was a very good painter. Did you know that? Eisenhower, too — but not as good as Churchill. So I've been making a list of all the things I want to do now that I'm full-time philanthropy, and painting is one of them. I just haven't started yet."
Filed under: Bill Clinton
February 18, 2009
Posted: 01:35 PM ET
From Producer Eleanor McManus:
My colleague Michael Watts and I are traveling back to DC from Little Rock today. We were at the Clinton Library where Larry interviewed President Clinton for the hour last night.
The interview coincided with the opening of the Peter Max exhibit at the Clinton Library. Peter even gave us a tour of his exhibit which we will put up on the website, so stay tuned!
It's an absolutely beautiful library with very modern architecture. There's a room inside that is a replica of the Oval Office in the White House. It even has pictures of Secretary Hillary Clinton and Chelsea during President Clinton's years at the White House. In fact we found out that when the President comes to Little Rock, he actually stays at the library. There is a private room upstairs for him. They even have a putting green on the roof, and some days visitors can see the President putting some balls!
Larry has interviewed President Clinton many times, but this time it was very special be able to do it at the Clinton Library. Also, this was the first time President Clinton was exactly on time for the interview! Usually when we tape an interview with the former President he's a bit tardy – he has even arrived up to an hour late. Larry was surprised how on-time he was...
The President flew into Little Rock incredibly early Tuesday morning. In fact his staff said that while they were trying to get some sleep on the plane, the President was up explaining the stimulus to his agents!
President Clinton was as gracious as ever. Before he sat down he shook everyone's hand in the room – from the cameramen to the producers on site. He was even the one who rounded up everyone at the end for a group picture!
Larry interviewed him for the full hour, but there was still plenty left to discuss. President Clinton could have talked for hours. He lights up when he talks about his foundation (Clinton Global Initiative) and all the work they do. Something tells me we are going to hear a lot more from President Clinton soon.
Posted by: LKL Producer Eleanor McManus
Filed under: Bill Clinton • Dispatches • Larry King Live
February 17, 2009
Posted: 11:33 AM ET
**AND DONT FORGET TO TUNE IN TONIGHT AT 9PM ET TO SEE FORMER PRESIDENT CLINTON ON LKL!!
Filed under: Bill Clinton • Larry King Live
Posted: 10:26 AM ET
 It's been 145 years since Abraham Lincoln appeared on a ballot, but admiration for the man who saved the union and sparked the end of slavery is as strong as ever, according to a new survey.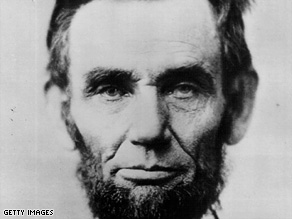 Lincoln finished first in a ranking by historians of the 42 former White House occupants. The news wasn't quite as good for the latest addition to the nation's most exclusive fraternity: George W. Bush finished 36th in the survey, narrowly edging out the likes of historical also-rans Millard Fillmore, Warren Harding and Franklin Pierce.
James Buchanan - the man who watched helplessly as the nation lurched toward civil war in the 1850s - finished last.  
Bill Clinton registered the greatest gain among recent presidents, jumping from 21st to 15th in the survey. Ronald Reagan edged forward from 11th to 10th overall, while George H.W. Bush moved up from 20th to 18th.
(Click HERE for the full list)
*NOTE: Our guest tonight is President Bill Clinton!  Tell us what you want to hear from the former President NOW!
Filed under: Bill Clinton • Larry King Live
February 16, 2009
Posted: 10:18 AM ET
Former President Bill Clinton says he thinks the country will surmount the current economic crisis, but sees the threat of terrorism as a longer-term problem.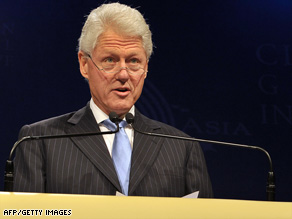 Clinton also is giving President Barack Obama high marks for the $787 billion economic stimulus bill that Obama will sign into law later this week.
The former president said in an interview broadcast Monday on NBC's "Today" show that he believes Obama "is off to a good start." Clinton also said the new president and his economics team handled the controversial stimulus plan well, "given the fact that they had to do it in a hurry." Clinton, who continues to lead a global public service initiative, said he believes the legislation will be "our bridge over troubled waters."
NOTE: President Clinton will be our guest TUESDAY night!!  What do you want to hear from him?  Let us know!
Filed under: Bill Clinton • Larry King Live • Uncategorized