July 29, 2009
Posted: 08:17 AM ET
Bernard Madoff, the financier convicted for Wall Street's biggest investment fraud, was surprised his $65 billion Ponzi scheme was not uncovered sooner, he said in his first interview since entering prison.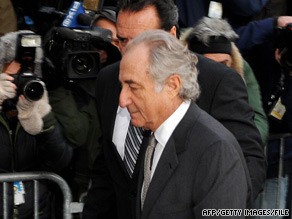 Madoff, the disgraced 71-year-old Wall Streeter who drew 150 years' prison time for the fraud, expressed remorse and talked candidly to a pair of lawyers suing him on behalf of investors, according to news reports of their jailhouse meeting on Tuesday.
San Francisco attorneys Joseph Cotchett and Nancy Fineman met with Madoff at the North Carolina prison where he was taken two weeks ago after pleading guilty, the Associated Press and ABC News reported on Tuesday. "There were several times that I met with the SEC and thought 'they got me,'" Madoff told Cotchett and Fineman, according to abc news.com. The Securities and Exchange Commission is now conducting an in-depth review of how they missed the fraud, drawing intense criticism. The results of their investigation are expected to be released in weeks.
Filed under: Bernard Madoff • Finance
May 18, 2009
Posted: 11:48 PM ET
Federal rules require that Madoff live out his sentence in a maximum-security prison—but he'll have a lot working in his favor: he's elderly, he's a criminal father figure, and he stole from the rich. Here's what he can expect when they throw away the key.
Bernie Madoff is going to jail for the rest of his life. But when he was first turned in by his sons in December, a number of my acquaintances who work in the criminal justice arena noted that, despite the enormity of the charges, he was not paraded in front of TV cameras with his hands cuffed behind his back.
Circumventing the humiliation of the perp walk was probably negotiated with the Feds well in advance of his surrender, and his ability to do this highlights the easier ride that virtually all white-collar criminals enjoy in the justice system. But Madoff will have additional advantages working for him even if he doesn't go to "Club Fed." American prisons are home to a counterintuitive subculture, one where certain traits that would normally be a strike against you can actually work in your favor.
Filed under: Bernard Madoff • Crime • Larry King Live
May 11, 2009
Posted: 10:58 PM ET
By Joe Weisenthal via "Business Insider"
Here's more evidence that Madoff's inner sanctum, including his family members, were aware of the ongoing fraud and decided to get out of the oncoming train.
Daily Beast: The Daily Beast has learned that in the 90 days leading to the collapse of Bernard L. Madoff Investment Securities, $735 million was withdrawn from accounts controlled by Madoff's relatives, employees, and their relatives, and by people who fed billions of dollars of investors' money to Madoff. The dollar amount has been previously known. What has not been reported until now is the unusually short period in which the withdrawals were made, and how close it was to the collapse of the Madoff firm and to his confession on December 10, 2008.
The timing of those withdrawals prompted Irving Picard, the bankruptcy trustee, to send "clawback letters" in mid-April to 223 people among the more than 8,000 investors who had accounts with Madoff. What this shows is that the bankruptcy trustee is not randomly trying to recover money from every Madoff investor—he's looking for people who may be culpable.
Filed under: Bernard Madoff • Larry King Live
March 12, 2009
Posted: 06:09 PM ET
Tonight, Madoff, Rihanna & Octomom, oh my!  And, we want to hear from YOU!
It's a story of swindle, greed and lies.  We'll take on the Bernard Madoff Scandal!  Madoff is going to jail for the rest of his life, but the big question remains: Where is the money?  Our panel discusses the case.
Plus, the scoop on Rihanna!  Why is she going back to Chris Brown?  Our experts tell what they know.
Then, the latest on the Octomom!  She's agreed to accept help from an outside group in caring for the newborns.  We'll hear from them about the help they intend to deliver.
Also, 'Discovery Health" channel's stars of "Then Came 6," the Harris family, who are raising sextuplets weigh-in with their take!  Want to know their tips for dealing with a large family? Check out their LKL Blog Commentary HERE!
WE WANT TO HEAR FROM YOU! COMMENT HERE! Then, tune-in to the live show at 9 p.m., ET!  We just may use your comment on the air!
As always:
1) Stay on topic.
2) Keep it short
3) No curse words
4) No links
5) Use a name (no initials or screen names)
Filed under: Bernard Madoff • Larry King Live • Octuplets • Rihanna
February 16, 2009
Posted: 11:30 AM ET
Posted: 09:39 AM ET
Note: We'll be talking about this TONIGHT on Larry King Live – stay tuned to the LKL blog for more!
A former British soldier killed himself after losing his life savings in Wall Street financier Bernard L. Madoff's alleged $50 billion fraud scheme, according to the man's family.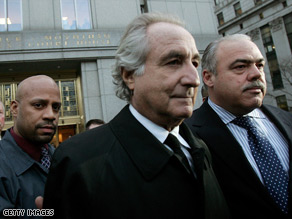 William Foxton, 65, a decorated soldier who lost an arm during his military service and worked on United Nations humanitarian missions, died from a single bullet wound to the head Tuesday in the southern English city of Southampton, police said. He apparently walked to a park near his home, sat on a bench and fired the fatal shot.
Foxton's son Willard told reporters that his father recently discovered that his life's savings, estimated at more than $1 million, which he invested in two hedge funds, had then been poured into Madoff's fund.
Filed under: Bernard Madoff • Larry King Live
Posted: 08:02 AM ET
Note: We've got some key guests tonight on LARRY KING LIVE in the Madoff investigation – tune in at 9pmet and let us know your thoughts!
By Paul Krugman, NY Times columnist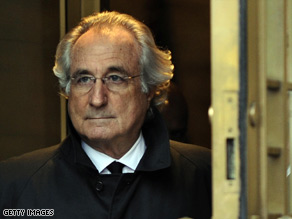 By now everyone knows the sad tale of Bernard Madoff's duped investors. They looked at their statements and thought they were rich. But then, one day, they discovered to their horror that their supposed wealth was a figment of someone else's imagination.
Unfortunately, that's a pretty good metaphor for what happened to America as a whole in the first decade of the 21st century.
Last week the Federal Reserve released the results of the latest Survey of Consumer Finances, a triennial report on the assets and liabilities of American households. The bottom line is that there has been basically no wealth creation at all since the turn of the millennium: the net worth of the average American household, adjusted for inflation, is lower now than it was in 2001.
(Read more of Krugman's commentary HERE)
Filed under: Bernard Madoff • Larry King Live