The Pontiac car brand, once marketed as General Motors' "excitement division," will be killed off by the end of next year, the carmaker announced Monday.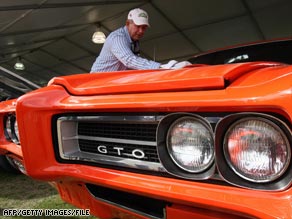 The decision to shutter Pontiac was one of several aggressive steps GM spelled out in an updated survival plan Monday. The government has given the company until the end of next month to restructure and slim down in order to survive.
The new GM will focus on four core brands: Chevrolet, Buick, GMC and Cadillac.
The fate of three other troubled lines - Saturn, Saab and Hummer - will be decided at a later date, GM said. They are likely to be sold off or shut down, while Pontiac will be shuttered.
Filed under: Auto Industry
We had Bill Ford, great-grandson of Henry Ford and executive chairman of the Ford Motor Company, on LKL last night – here's a portion of the interview:
KING: There are reports, Bill, that GM plans to layoff 1,600 white-collar workers in the next few days, 1,600 white collar. Any layoffs at Ford?
FORD: We have already - we have taken a lot of restructuring actions over the last year. We don't see anything coming on the horizon. I mean, we like our plan. We are working our plan. We are focusing very much on being a green safe company, which is where I think society would like us to go. Frankly, that's where I would like us to go.
So our - our plans are working and we are just keeping our head down and going as hard as we can.
KING: We know how competitive the automobile business is. Would you hire any of these former GM employees?
FORD: Well, if we are in the hiring mode, sure we would. No. You know, we are now at sort of our fighting trim. And we are - we have the right structure for us to go ahead and deliver our plan. But there is no question, they're incredibly talented people at all the companies. GM and Chrysler both. So - great engineers.
You know, should that time come, of course.
KING: Were you surprised that Rick Wagoner was forced out?
FORD: Well, you know, I guess I never thought I would live to see the day where the president - the CEO of General Motors was dismissed by the president of the United States. That to me was quite a moment. And whether or not that deserved to happen, I don't know. I mean, it is - that really is not for me to say.
Filed under: Auto Industry • Larry King Live
Does "GM" stand for "Government Motors?"  Taxpayers have been stuck with a $17 BILLION price tag so far to keep GM and Chrysler afloat - and they're asking for more! Today, President Obama forced GM's top executive out!  And he put Chrylser on notice.  But, the markets tumbled AFTER the president spoke!  What's going on here?  Should the government be involved like this?  We want to hear from YOU!
So, our "Question of the Day" is:
"Should the government bail out struggling businesses?"
CLICK HERE to tell us what you think.  Then, tune-in tonight!  We just may use your comment on the air!
Please:
1) Stay on topic.
2) Keep it short
3) No curse words
4) No links
5) Use a name (no initials or screen names)
Filed under: Auto Industry • Larry King Live • President Obama • Question of the Day