April 2, 2010
Posted: 08:00 PM ET
[cnn-photo-caption image=http://i2.cdn.turner.com/cnn/2010/images/04/02/autismribbon.jpg caption=""]
(CNN) - It was the dog trainer's honesty that won Lisa McMillan over.
When McMillan asked the trainer whether she was able to train a dog to assist with her autistic twin boys, the dog trainer said, "I don't know anything about autism."
The mother did. And Kelli Collins knew how to train dogs. Together, they would train and raise a puppy to be a companion to the then-3-year-olds, Eric and James. Collins would work with the puppy, Caleb, on learning the boys' scent so he could find them when they bolted. He soon would learn to comfort them, almost instinctively, when they needed a friend.
Autism, a developmental disorder, affects one of every 110 children, according to the Centers for Disease Control and Prevention. People with autism often have social, communication and behavioral challenges, but to varying degrees.
Collins is a trainer for the Georgia K9 National Training Center in Canton, Georgia. Collins, with her partner, Jeff Schettler, started as a trainer for law enforcement and search and rescue dogs. She also teaches obedience to family dogs. She's been training dogs for 15 years.
The pair trained Caleb at the center's indoor and outdoor facilities, the family's home and out in social settings. They fused their search and training techniques for finding missing people with handling a child who can bolt in an instant. They taught Jennifer Fair, who lives with the McMillans, how to give directions and encourage positive behavior with the puppy in the home and on outings.
Filed under: Autism
October 5, 2009
Posted: 07:49 AM ET
A study published Monday in the journal Pediatrics indicates about 1 percent of children ages 3 to 17 have autism or a related disorder, an increase over previous estimates.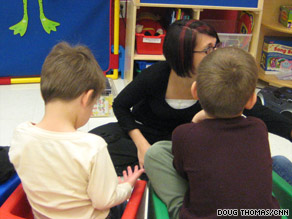 "This is a significant issue that needs immediate attention," Dr. Ileana Arias, deputy director of the Centers for Disease Control and Prevention said Friday. "A concerted effort and substantial national response is warranted."
The study used data from the federal government's 2007 national survey of children's health. The survey of parents was conducted by the Health Resources and Services Administration, and by the Centers for Disease Control and Prevention.
The results are based on a national telephone survey of more than 78,000 parents of children ages 3 to 17.
In the study, parents were asked whether a health care provider had ever told them their child had an autism spectrum disorder. ASD is a group of brain disorders comprising autism and two less severe disorders: Asperger's disorder and pervasive developmental disorder not otherwise specified.
Children with the disorder show impairment in social interaction and in their ability to communicate. They often display repetitive behavior.
September 23, 2009
Posted: 03:35 PM ET
By Larry Mcshane via New York Daily News
Actor John Travolta, testifying Wednesday against two accused extortionists, publicly confirmed for the first time that his 16-year-old son suffered from autism.
The details on Jett Travolta's illness came out as the "Pulp Fiction" star recounted his desperate effort to revive the dying teen at their Bahamas vacation home.
Travolta testified that he performed CPR on 16-year-old Jett in a fruitless effort to save the youth.
Travolta said a caretaker at the home was already working on the unconscious teen when he came to Jett's aid last Jan. 2.
"I ran downstairs with my wife to help my son," said Travolta, whose spouse – actress Kelly Preston – watched his testimony inside the courtroom in the Bahamas.
The 55-year-old Travolta, who has maintained a low profile in the wake of the tragedy, revealed for the first time that his son was autistic and suffered from "a seizure disorder."
The seizures would strike every five to 10 days, Travolta said, and his son would usually sleep for 12 hours after each 60-second attack.
In the past, the Travoltas said only that their son was afflicted by Kawasaki disease, a rare malady that mostly affects young children.
Critics said the Travoltas would not admit their son was autistic because of their belief in Scientology.
Travolta is the star witness in the case against paramedic Tarino Lightbourne and former Bahamas senator Pleasant Bridgewater. The two were charged with trying to shake down Travolta for $25 million. The pair pleaded innocent.
Police said the extortion was tied to a document related to Jett Travolta's treatment.
Travolta testified that he and Preston were sleeping at the family home in the Bahamas when a nanny woke them up with word of the teen's seizure.
After they came downstairs, the star began providing mouth-to-mouth resuscitation as an employee continued with chest compressions.
Travolta arrived at the courthouse in an entourage of SUVs before taking the stand. The family was in the Bahamas to celebrate New Year's before the tragedy.
Filed under: Autism • John Travolta
April 22, 2009
Posted: 11:38 AM ET
By actor Jim Carrey
Recently, I was amazed to hear a commentary by CNN's Campbell Brown on the controversial vaccine issue. After a ruling by the 'special vaccine court' saying the Measles, Mumps, Rubella shot wasn't found to be responsible for the plaintiffs' autism, she and others in the media began making assertions that the judgment was in, and vaccines had been proven safe. No one would be more relieved than Jenny and I if that were true. But with all due respect to Ms. Brown, a ruling against causation in three cases out of more than 5000 hardly proves that other children won't be adversely affected by the MMR, let alone that all vaccines are safe. This is a huge leap of logic by anyone's standards. Not everyone gets cancer from smoking, but cigarettes do cause cancer. After 100 years and many rulings in favor of the tobacco companies, we finally figured that out.
The truth is that no one without a vested interest in the profitability of vaccines has studied all 36 of them in depth. There are more than 100 vaccines in development, and no tests for cumulative effect or vaccine interaction of all 36 vaccines in the current schedule have ever been done. If I'm mistaken, I challenge those who are making such grand pronouncements about vaccine safety to produce those studies.
Filed under: Autism
April 11, 2009
Posted: 07:57 PM ET
Jim Carrey and Jenny McCarthy get serious about autism!  She says her son has "recovered" from the condition that affects millions.  But many medical experts say there is no cure. Questions and answers from guests on both sides of the controversy!
Filed under: Autism • Larry King Live
April 9, 2009
Posted: 01:25 PM ET
We had 14-year old Carly Fleischmann on our show last Friday – an amazing girl with autism.  She also contributed to this blog and sent the following note to us:
Dear Mr. King,
I would like to thank you for having me on your show.
I liked the show but I have some other views I would like to share with you. You had your guest talk about the vaccines and how it effects typical kids to have autism. However in my eyes it's the children who already have autism that need their story told. Not the ones that don't. We need help. We need people to believe. We need people to understand. We need people to listen.
In three and a half days people believed in me enough to have over 4200 sign my petition to tell my story. I still think it's a very important one. I love the fact you had me on your show and by doing this I believe that you believe. I was told once no one will ever listen till some one stands up. Well I am standing and I was wondering if you would stand beside me. It's been a hard process for me to get to the point that I am able to spell. I believe we all have an inner voice. We just need to find away to get it out.
You said that there are a lot of things about autism you have not gotten to but you will try to touch on a fair bit. Let me be the first to open those doors.
Your optimistic and able to back it up believer,
Carly Fleischmann
Oh Thank you again for every thing.
Filed under: Autism • Larry King Live
April 3, 2009
Posted: 09:10 AM ET
LKL Blog Exclusive by J.B. Handley, founder of Generation Rescue. J.B. will be our guest tonight on LKL, in addition to Jenny McCarthy and Jim Carrey.
The thoughts and comments expressed by J.B. Handley in this LKL Blog exclusive commentary are his own.

Jenny McCarthy's son Evan no longer has autism. This is a very hard concept for most people to grasp, because the popular understanding of autism is that it's lifelong. Quietly, a revolution of tens of thousands of parents around the world are standing firmly behind Jenny and using the same treatments to heal their children that she used to heal Evan. Not a day goes by where I don't hear a story from a parent of their child's dramatic improvement or complete recovery from autism using what we call "biomedical intervention."
In the 1940s, Autism was supposed to be a placeholder diagnosis, used until we had a better understanding of the actual physical issues that would define autism as a disease. Yet even today, a child is diagnosed based entirely on behavioral observation – there is no blood test or other way to test for it. Unfortunately, this has led to a level of inertia and acceptance amongst the mainstream medical community that many parents find unhelpful, if not unacceptable. "Autism is something you can't really change, just learn to accept it" – that's the message so many of us hear from our medical authorities.
Imagine for a second being that parent of a child with autism and told that your child may never speak and that a lifetime of care is likely. You start to do your own research, and you happen upon our community, filled with hope, examples of recovery, and specific actions you can take to heal your child. What would you do?
The vaccine issue has made autism one of the most polarizing topics on earth, which is too bad, because it keeps different communities within the autism world from working for the benefit of the only group that matters: our kids.
Filed under: Autism • Larry King Live