December 11, 2009
Posted: 06:06 PM ET
By Alan Duke, CNN
Los Angeles, California (CNN) - A judge Friday refused to suspend the medical licenses of two doctors facing trial on drug charges linked to the 2007 death of Anna Nicole Smith.
The Medical Board of California should have asked for the suspension earlier and not eight months after Drs. Khristine Eroshevich and Sandeep Kapoor were first charged, Los Angeles County Superior Court Judge David Wesley said.
Smith's boyfriend Howard K. Stern and the two doctors face 23 felony charges, including three counts of conspiracy to dispense and administer controlled substances to a known addict.
The three also are accused of conspiring to use false names to obtain drugs for Smith, a practice defense attorneys argued was intended to protect the celebrity's privacy.
The defendants, who are out on bond, entered not guilty pleas on all charges in an arraignment Friday. A trial date has been set for February, although it is expected to be pushed back to later next year.
Smith died February 8, 2007, from what a Florida medical examiner ruled was "acute combined drug intoxication."
At the arraignment, a lawyer from the state attorney general's office, E. A. Jones III - representing the medical board - argued that the judge should order the doctors to stop practicing medicine and surrender their prescription forms until the trial's completion.
The medical board's motion contended an October ruling finding "probable cause" for the doctors to be held for trial was justification for their licenses to be suspended.
Wesley said, however, the burden of proof for suspending a medical license is "clear and convincing evidence" - a higher standard.
"They've not been convicted," the judge said.
Filed under: Anna Nicole Smith
October 19, 2009
Posted: 08:55 AM ET
(People.com) - As the new spokesmodel for Trimspa diet pills in 2003, Anna Nicole Smith was a bubbly picture of health.
But just four years later, at 39 years old, the former blonde bombshell drifted out of consciousness in a Florida hotel room - too weak to walk, sit up or even drink from a glass, until her heart stopped.
What had happened?
Prosecutors blame a battery of 44 different medications provided by some of the people closest to her: the man who claimed to love her more than anyone in the world; a psychiatrist who claims she was trying to help the former Playmate endure the recent death of her son, Daniel; and Smith's own physician.
For the first time, many of the tragic details of Smith's final hours are being revealed in court. The first witnesses took the stand this week in Los Angeles to determine whether Howard K. Stern, 40, Khristine Eroshevich, 61, and Sandeep Kapoor, 41, should stand trial on felony charges of conspiring to give dangerous drugs to an addict through fraudulent means, such as by using fake names.
The hearing, which follows a two-year investigation into Smith's death, began with a bang. Maurice Brighthaupt, Smith's security guard, described watching Smith slurp from a baby bottle of the powerful sedative chloral hydrate - cited by a coroner as a primary cause of Smith's fatal overdose - as if it were a Pepsi.
Filed under: Anna Nicole Smith • Justice
October 7, 2009
Posted: 12:35 PM ET
The FBI investigated whether Anna Nicole Smith was part of a plot to kill her tycoon husband's son, whom she was battling for his late dad's fortune, but prosecutors ultimately decided there wasn't enough evidence to charge the Playboy Playmate who died in 2007 from a drug overdose, newly released files show.
Smith's FBI records, obtained exclusively by The Associated Press, say the agency investigated Smith in 2000 and 2001 in a murder-for-hire plot targeting E. Pierce Marshall, who was at the center of a long legal fight to keep the starlet, model and stripper from collecting his father's oil wealth, valued in the hundreds of millions. The younger Marshall has since died.
The documents released under the Freedom of Information Act depict an investigation going on as the fight raged over J. Howard Marshall II's estate. Vast sections of the 100 pages of released materials — a fraction of Smith's full FBI file — are whited out, and no evidence of her involvement in such a plot is detailed.
Filed under: Anna Nicole Smith • Justice
August 22, 2009
Posted: 11:07 AM ET
By MARY FLOOD via HOUSTON CHRONICLE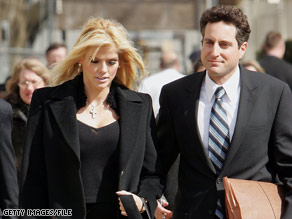 A second blogger being sued by the mother of the late Anna Nicole Smith is set to spend a weekend behind bars for failing to do what a local judge asked.
Teresa Stephens, accused in a civil lawsuit of defaming Smith's mother, was arrested Thursday in the Fort Worth area and is due in Harris County court Monday morning.
A judge will ask Stephens, whose blogging name is Butterfly according to the lawsuit, to show why she should not be found in contempt for failing to follow court orders to turn over her computer and to appear in court to explain why she didn't do so.
Neil McCabe, attorney for Virgie Arthur, said his client was defamed by these bloggers and others, but that the jailings aren't about blogging.
"This is because a couple of people have defied court orders," McCabe said. "The case is not really about people blogging. It's about people ginning up a couple stories and getting them in the mainstream media."
McCabe said the gossip was vicious and it was around the time of custody hearings for Smith's infant daughter, Dannielynn, who could inherit an $88 million fortune. Smith died in 2007.
Arthur also sued lawyer Howard K. Stern; Stern's sister; Dannielynn's father, Larry Birkhead; TMZ Productions Inc.; TMZ's Harvey Levin; and others.
Filed under: Anna Nicole Smith • Larry King Live
March 13, 2009
Posted: 05:31 PM ET
Tonight, "Saturday Night Live" alum Jimmy Fallon's New Job!  The "Late Night" host goes prime-time with a hot new show!  And he's stopping by our studio to talk about it.  Hear how the new job is going – and get behind-the-scenes details. 
It's Jimmy Fallon's turn in the hot seat!
WE WANT TO HEAR FROM YOU!
Have a question or comment for Jimmy?  CLICK HERE!
Then, tune-in tonight.  We may use it on the air in our blog segment!
But, up first tonight, an exclusive with Howard K. Stern's attorney!  The longtime companion of the late Anna Nicole Smith was arrested last night on felony charges!  Did he keep Anna Nicole Smith dazed with drugs?   We'll discuss that and more in this sensational case!
Also, U.S. Rep. Ron Paul thinks marijuana should be legalized!  Actor Stephen Baldwin disagrees!  And they'll debate it tonight as Joy Behar sits-in for Larry as guest host.  It all begins at 9 p.m., ET!
Filed under: Anna Nicole Smith • Jimmy Fallon • Larry King Live