March 22, 2009
Posted: 11:42 AM ET
Tonight, Mitt Romney! His party's in turmoil and its leaders in question! How would he handle the AIG debacle?  And, can he help bring the Republicans back to power?  Mitt weighs-in on Rush Limbaugh, Pres. Obama and more!
Plus, Natasha Richardson's death ruled an accident.  How you can prevent a similar tragedy.  Experts explain what to look for should you or someone you love suffer a head injury.
It's all tonight in a Sunday edition of "Larry King Live," 9 p.m., ET
Filed under: AIG • Larry King Live • Mitt Romney • Natasha Richardson
March 19, 2009
Posted: 05:39 PM ET
Tonight, New York City's Medical Examiner's Office ruled actress and mother of two Natasha Richardson's accidental death was caused by blunt impact to her head. So, what happened in the moments following her fall on a Canadian ski slope and why were paramedics, who, reportedly, arrived within minutes turned away?
Reporters and medical experts with the latest join Larry to talk about today's developments.
Then, how can you prevent a similar tragedy?  Would a helmet have helped?  What should you watch for if you or someone you love falls?  Our experts help you with the answers tonight!
WE WANT TO HEAR FROM YOU! CLICK HERE to leave a comment or question.
Then, tune-in tonight.  We may use it on the air!
Meanwhile, tributes pour-in from Hollywood's elite.  "... She is irreplaceable in our lives; She gave us so much, so generously," said Meryl Streep.
"She was a wonderful woman and actress and treated me like I was her own," said Lindsay Lohan.
Regis Philbin said, "She was a lady.  I can't tell you enough what a good person she was ..."
Also on the program tonight: Mitt Romney!  His party's in turmoil...its leaders in question.  How would Mitt Romney handle the AIG mess and bring the Republican Party back from the brink?  He'll join Larry on set in L.A., to talk these and other topics.
It's all tonight on "Larry King Live," at 9 p.m., ET.
Filed under: AIG • Larry King Live • Mitt Romney • Natasha Richardson
March 18, 2009
Posted: 07:54 PM ET
You're outraged.  You're ticked.  You're feeling things we can't print on a family blog.  So you can't wait to sound off on our question of the day:
Is Washington doing enough to get the AIG bonus money back?
SPEAK UP!  We may use your comments on the show.  Remember the blog golden rules:
1) Stay on topic.
2) Keep it short
3) No curse words
4) No links
5) Use a name (no initials or screen names)
Filed under: AIG • Larry King Live • Question of the Day
Posted: 10:24 AM ET
By Edward Liddy, CEO of American International Group (AIG)
The government rescue of American International Group (AIG) and other financial firms has produced a palpable wave of anger on the part of Americans and a rising public demand for accountability from corporate and government leaders.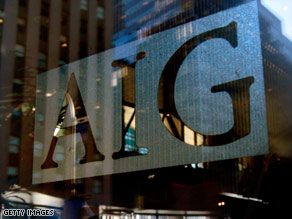 The anger is understandable, and I share it. I have been fortunate in more than three decades in business to see firsthand the wealth creation that well-managed American companies bring to their employees and their communities. I have seen the good side of capitalism. But over the past six months, since agreeing to take the reins of AIG and reviewing how it was run in prior years, I have also seen instances of the bad side of capitalism.
Mistakes were made at AIG, and on a scale that few could have imagined possible. The most egregious of those began in 1987, when the company strayed from its core insurance competencies to launch a credit-default-swaps portfolio, which eventually became subject to massive collateral calls that created a liquidity crisis for AIG. Its missteps have exacted a high price, not only for the company and its employees but for the American taxpayer, the federal government's finances and the global economy. These missteps brought AIG to the brink of collapse and to the government for help.
More of Liddy's commentary HERE
Filed under: AIG
March 17, 2009
Posted: 05:36 PM ET
Tonight: Outrage over insurance giant AIG paying millions in bonuses to 73 employees AFTER our government pledged $170-BILLION of taxpayer money to keep the company afloat!  President Obama expressed dismay and anger over the payouts, some politicians are even calling for exorbitant tax rates on those bonuses to help recoup some of the taxpayer's money!  One senator even suggested AIG representatives should "resign, or commit suicide." 
WE WANT TO KNOW WHAT YOU THINK! We're inviting you to sound off!
COMMENT HERE! Then, tune-in to the live show tonight at 9 p.m, ET.  We may use you comment during our blog segment.
Also tonight, Donald Trump joins Larry to talk AIG, Bernie Madoff and how he's weathering uncertain economic times.
Then, Ben Stein and Arianna Huffington debate the issues, including AIG, Pres. Obama's recovery plan, Megan McCain vs. Laura Ingrahm and more!
But first, actress Natasha Richardson was reportedly injured on a ski slope in Canada - and one website even reported her death!  What really happened and how is she doing?  Reporters and people-in-the-know join Larry tonight with the latest.
Please:
1) Stay on topic.
2) Keep it short
3) No curse words
4) No links
5) Use a name (no initials or screen names)
Filed under: AIG • Ben Stein • Larry King Live • Trump