May 24, 2010
Posted: 03:18 PM ET
Editors note:  Model & actress Iman spoke to the Larry King Live blog about her support of "The Lazarus Effect" campaign and documentary.  More than 20 million people have died of HIV/AIDS in Africa, despite the fact it is now a preventable and treatable disease.  "The Lazarus Effect" campaign features dozens of celebrity artists helping to raise awareness of the value of 40 cents – the cost of antiretroviral medicine needed for people with HIV/AIDS in Africa to survive – by comparing trivial items worth the same amount (a stick of gum, a smear of lipstick, etc).    For a preview of "The Lazarus Effect" documentary, click here
What is "The Lazarus Effect" – tell us about the documentary and (RED) campaign?
THE LAZARUS EFFECT is a beautiful film by (RED), directed by Lance Bangs, executive produced by Spike Jonze, that illustrates the incredible transformative effect of ARV (antiretroviral) medicine on people living with HIV in Africa.  
Just eight years ago, this medicine, that was broadly available in the west, cost over $10,000 a year and was out of reach of most people in Africa who make less than $2 a day.  Today, ARVs – two pills a day -  cost just 40 cents and can bring someone from near death to health in as little as 40 days. 
This life-restoring medicine is provided through organizations like the Global Fund and PEPFAR to more than 3 million people across Africa today.  The film shows the incredible human impact of this investment - just 40 cents to bring someone back from death's door – it's incredible.
The PSA campaign I'm involved in for (RED) is designed to help raise awareness of this film and get as many people as possible to tune in and take action.   We want people to watch the film on HBO on May 24th or catch it on YouTube.com starting that same day at 9:30 PM EST.
Some 20 million people have died of AIDS in Africa since 1981…and 67 percent of all people living with HIV worldwide are in Sub-Sarahan Africa.  It's the leading cause of death in that part of the world.  Why have they been hit so hard?
ARV treatment was available much later in Africa than it was in the rest of the world.  It was just a few years ago that the Global Fund and PEPFAR began to make ARV treatment available to millions who needed it.  Before this time, few people would get tested for HIV because it was simply a death sentence.  They could not afford the medicine the needed to stay alive.  Today, increased access to ARV medicine brings people into the clinics, they can get tested – know their status – and either take the measures necessary to stay healthy if they are positive or make educated decisions to stay negative. 
A lot has obviously changed in the past 5 to 10 years – it now only costs 40 cents a day for the necessary antiretroviral (ARV) medication to keep a person with HIV alive in Africa.  How far has the world come in helping and treating those with HIV in Africa?  
There has been incredible progress in treatment over the past ten years.  Just eight years ago, when this treatment cost as much as $15,000 a year, there were only 50,000 people on the continent who were on treatment.  Today, thanks to the efforts to bring that cost down and to organizations like the Global Fund, PEPFAR and (RED), to help fund this medicine there are now more than three million people on treatment.
Still, there are millions more who need access and there are still 3,800 people who die a day from this preventable, treatable disease.  So, while we have made great progress, there is still much more to be done and we need to continue our commitment and our fight to ensure the momentum doesn't wane. 
Filed under: Africa • LKL Web Exclusive
Posted: 02:31 PM ET
By Hayden Christensen
Editors note: More than 20 million people have died of HIV/AIDS in Africa, despite the fact it is now a preventable and treatable disease.  "The Lazarus Effect" campaign features dozens of celebrity artists helping to raise awareness of the value of 40 cents – the cost of antiretroviral medicine needed for people with HIV/AIDS in Africa to survive – by comparing trivial items worth the same amount (a stick of gum, a smear of lipstick, etc).  
I recently went on a trip to Africa and came back with the need to get involved and help raise awareness about AIDS.  I was familiar with the (RED) campaign and the remarkable work they have done and are currently doing and wanted to be a part of it.  One of our initiatives is to raise AIDS awareness through "The Lazarus Effect."  This inspiring documentary airs tonight on HBO. If you miss it there, you can see it on YouTube afterwards.
"The Lazarus Effect" addresses one of the world's worst epidemics—AIDS in Africa. It focuses on the transformative effect of antiretroviral medicine and shows us how someone who is severely suffering from AIDS can regain their health in as little as 40 days by simply taking two pills a day that only cost 40 cents. The narrative of the documentary is told from the perspective of patients and doctors who are battling AIDS in their every day life. The story that unfolds in this documentary does not focus on the devastation and despair, but on survival. It shows what the human impact of smart aid programs has been.  
Just eight years ago there were only 50,000 people across the continent who could access ARV (antiretroviral) treatment as it cost over $10,000 a year. Treatment was virtually impossible since the majority of people living in Africa make less than $2 a day.  At that time, AIDS was a death sentence and more than 6,000 people were dying each day from a preventable and treatable disease. Today, that number has been nearly cut in half. Thanks to the efforts of global health organizations the cost of these pills is less than $158 a year. This means that programs offering aid can afford to get them to the millions of people who are in need.
Three million people are on ARV treatment today in Africa, but there are still millions of people across the continent who don't have access to the basic treatment needed to fight AIDS. They are dying, and the worst part is that treatment is available. This documentary shows what is possible when there is access to treatment.  
I hope people watch the documentary and are inspired to help raise funds to support the incredible programs that ultimately save lives. I urge people to visit JOINRED.COM and learn how they can get involved.
Filed under: Africa • LKL Web Exclusive • Uncategorized
March 9, 2010
Posted: 09:30 PM ET
A Primetime Exclusive with former Rep. Eric Massa!
On why he suddenly resigned from Congress…
His admission that he grouped a staffer…
And why he called Pres. Obama's chief of staff "son of the devil's spawn"
Massa says he was pushed out of his job over his opposition to the health care reform bill…the White House says that's "crazy"
We'll ask him all about it…
Send us your questions for Mr. Massa: Facebook.com/CNNLarryKingLive
PLUS 
Actors Jessica Biel and Emile Hirsch on their climb to the top of Mt. Kilimanjaro!
Why did they do it?
How did they do it?  
They punished their bodies and minds…find out what happened as they reached the summit…
Filed under: Africa • Larry King Live • Politics is King
March 1, 2010
Posted: 11:23 AM ET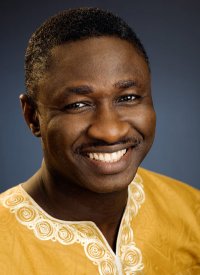 This is a LKL Blog Exclusive by Frederick Nnoma-Addison, President & CEO of the Washington, DC based Africa Media-Image Project, an African interest news and media production organization working to bridge the information gap between the United States and African countries. He is the Author and publisher of a book that celebrates 50 years of U.S. – Ghana/Africa relations.
With several 10-hour direct flights to many capital cities on the continent, Africa isn't as far from the U.S. as many Americans perceive it to be. The flight time from Washington, DC to Accra, Ghana is the same as that from Washington, DC to Honolulu, Hawaii. This comparison of physical distances also holds true for the virtual distances between the two regions, thanks in part to free markets and a globalized economy. Today we in America are able to patronize African coffee, jewelry, clothing, chocolates, roses, crude oil and thousands of other products as though they originated from our backyards while those in Africa benefit from U.S. government and private sector investments on a daily basis. As individuals and nations we are more closely linked than stereotypes would have us believe.
U.S. trade with sub-Saharan Africa has more than doubled since the African Growth & Opportunity Act (AGOA) was signed into law in 2000. According to the U.S. Department of Commerce (2008 report), U.S. imports from sub-Saharan Africa alone exceeded $86 billion, more than quadruple the amount in 2001. During the 2009 AGOA Forum in Nairobi, Secretary of State Hillary Rodham Clinton acknowledged the interdependence between the United States and Africa with the following words, "America is Africa's largest trading partner."
The now outdated concept of a distant, so-called 3rd world (mostly used to describe Africa), is just one example of how people in economically advanced countries like the United States view themselves as being separated from Africa and the rest of the world. Of course skewed news media coverage of the African continent is partly responsible for this mindset. A paragraph from President Barack Obama's Accra speech, July 11, 2009 accurately highlights the new realities of international relations and the bonds we share as individuals and nations in a much smaller, global community.
For more information on the 50 years of U.S. – Ghana/Africa relations, click HERE
Filed under: Africa • International • LKL Web Exclusive
June 2, 2009
Posted: 01:32 PM ET
This is a LKL Web EXCLUSIVE by John Prendergast, co-founder of the Enough Project (www.enoughproject.org)
Pete Wentz of Fall Out Boy and the Invisible Children fellahs - my friends Jason, Laren and Bobby - are appearing on the Larry King Show TONIGHT.  They have a simple but important message to share with Larry and his audience.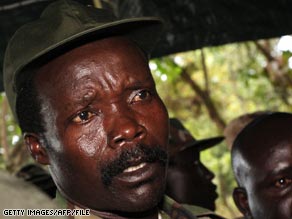 It turns out that one of the most brutal and longest running insurgencies in the world can be ended. The Lord's Resistance Army (LRA), which originated in Northern Uganda but has spread now to three other countries in Central Africa, is infamous for its tactics of abducting children as soldiers and sex slaves, and using rape and amputation as tools of war. Led by the mercurial, murderous and megalomaniacal Joseph Kony, the LRA has forced over two million people from their homes in the 22 years it has been churning and burning the forgotten corners of Central Africa.
The great news is that there is a solution. With an effective counter-insurgency strategy focused on apprehending Kony or otherwise removing him from the battlefield, an end could be reached to this real life horror film. If Kony were neutralized, the LRA would fall apart quickly. This is very similar to rebellions in Angola and Sierra Leone, which collapsed when their leaders were either killed or arrested.
The U.S. has a role to play in this. We can help prepare the government armies in the Central African region to carry out a more effective strategy for going after Kony and protecting the civilian population - particularly kids - from reprisals by the LRA. Senators Feingold and Brownback have just introduced in the U.S. Senate the Lord's Resistance Army Disarmament and Northern Uganda Recovery Act (S. 1067). The House of Representatives bill is H.R. 2478. Readers should write to their representatives (http://www.enoughproject.org/special-topics/in-depth-look-LRA) & tell them to co-sponsor this bill.
There is an answer to one of the world's worst human rights tragedies, and we can all be part of the solution.
Filed under: Africa • International • LKL Web Exclusive