April 28, 2010
Posted: 08:05 AM ET
Via People
In public, Sandra Bullock has been through the best and worst of times this year – from winning her first Oscar to enduring the breakup of her marriage. In private, she was quietly keeping a joyful secret – his name is Louis, and he is her newborn son.
Bullock reveals exclusively in the new issue of PEOPLE that she is the proud mother of Louis Bardo Bullock, a 3½-month-old boy, born in New Orleans. "It's like he's always been a part of our lives," Bullock, 45, says. She and husband Jesse James, 41, began the adoption process four years ago and brought Louis home in January but decided to keep the news to themselves until after the Oscars. Their close friends and family – including James's children Sunny, 6, Jesse Jr., 12, and Chandler, 15 – were essential in keeping the adoption a secret.
Then, just 10 days after the March 7 Oscars, Bullock and James separated following reports James had cheated. Bullock says she is now adopting as a single parent.
Filed under: Adoption • Hollywood • Sandra Bullock
April 12, 2010
Posted: 12:08 PM ET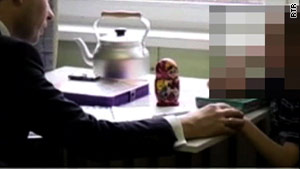 This is a story we're going to be discussing on tonight's show.  We're interested to know what you think, and if you have any personal adoption stories you'd want to share with us.
A 7-year-old Russian boy adopted by an American family last year was put on a return flight to Moscow this week because of violent and psychotic behavior, according to a Tennessee grandmother.
The child showed up unannounced at Russia's child protection ministry Thursday, triggering an international investigation.
Russian Foreign Minister Sergey Lavrov told a Russian TV channel on Friday that his country has banned future adoptions by Americans until the United States signs a new agreement to regulate them.
Posted by: LKL Producer Hunter Waters
Filed under: Adoption • International • Larry King Live
April 6, 2010
Posted: 08:20 AM ET
By Joan Brady, photographer and foster care advocate. Her commentary is a Larry King Live web exclusive and her thoughts are her own.
For generations, children in foster care have been among society's forgotten. While the occasional appearances of foster children characters on TV dramas have helped awareness, most still remain unaware of the plight of these children.
In Fairfax County, Va., there is an amazing woman named Beverly Howard, who, under the umbrella of the county's Department of Family Services, developed an initiative named Fairfax Families4Kids. This program is comprised of foster kids mostly 12 and older, more than 40 volunteer mentors and two staffers from the Department of Family Services. Beverly's energy, tenacity and warmth have turned a routine county program into something bigger: a family that would not otherwise exist for these forgotten children.
For almost 6 years, we have gotten together one to three times per month, doing everything from watching a baseball game to playing board games to packing boxes for soldiers in Iraq. In some ways, though, what we do matters less than the simple act of spending time with children who often feel no one is in their corner.
Just recently, we found out someone else may not be in these kids' corner: Fairfax County. In the name of desiring to more for more children, the county's Department of Family Services is planning to kill this program. While the county's broad goal is laudable, it remains unclear exactly how Fairfax's older foster children are best served by shutting down a program that's been so meaningful in their lives. In public meetings, county representatives have acknowledged the success of Fairfax Families4Kids, and have in fact suggested more children in the system should get the benefits of the program. On that, we all can agree. But the county's solution to that is to roll Fairfax Families4Kids back into the larger county system, diluting the impact of its staff and its volunteers.
The return on investment of the program is beyond dispute: Six children have been adopted as a direct result of Fairfax Families4Kids and two more are waiting on a court date for finalization. There's a committed group of mentors who devote significant amount of time to the program. There are funders who have volunteered to help preserve and/or expand Fairfax Families4Kids. But instead of finding a way to preserve a program that costs – in government terms – a measly $133,000 annually, the county now wants to replace it with something they claim will be as or more effective at serving older children in foster care. This defies logic.
The kids in this program have had difficult lives before entering the system, and being in the foster care system is no picnic either. For the children who have been part of Fairfax Families4Kids, this is a cruel blow.
For more details on this issue, please check out Joan's blog HERE
Filed under: Adoption • Foster Care • Larry King Live • LKL Web Exclusive
April 3, 2009
Posted: 08:17 AM ET
Madonna's petition to adopt a second Malawian child was rejected by a local judge Friday, an official said.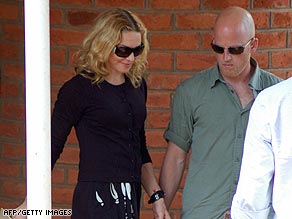 "The decision came down to residency requirement and the fact that the judge believes she was being well taken care of in the orphanage," said Zione Ntaba, a spokeswoman for the Malawi Justice Department.
"For the Malawians, the fact that the child is at an orphanage, is being taken care of and is going through the school education system, that does qualify as the best interests of a child," Ntaba added.
The 50-year-old pop star had filed a petition to adopt a girl, Chifundo James, 4, whose first name translates to mercy in Chichewa, the country's national language. She has three other children, including a son she adopted from the southern African nation in 2006.
Filed under: Adoption • Madonna