Anniversary of 9/11
Nine years ago, terror attacks in the
U.S. brought America to a standstill.
Larry asks celebrities, politicians and
others, "Where Were You," on 9/11.
We want to hear from you!
Where were YOU on 9/11?
Weigh in below.
Filed under: 9/11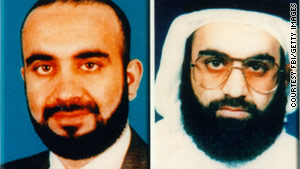 Washington (CNN) - No decision has been made on whether to change the current plan to hold the September 11 terrorist attack trial in a civilian court in lower Manhattan, White House officials said Sunday.
Last week, New York Mayor Michael Bloomberg and other politicians expressed concern over the costs and disruption of holding the trial of Khalid Sheikh Mohammed and four accomplices at a New York City courthouse.
David Axelrod, the senior adviser to President Obama, and White House Press Secretary Robert Gibbs said Sunday that Obama believes the trial should take place in a criminal court instead of before a military commission, as permitted for some terrorism suspects.
However, Axelrod and Gibbs acknowledged that Obama and the Justice Department were considering moving the trial from New York City.
"We've made no decisions on that yet," Axelrod said on the NBC program "Meet the Press." Gibbs, speaking on CNN's "State of the Union," also said the location of the trial was under discussion, but he expressed certainty that Khalid Sheikh Mohammed, the alleged mastermind of the September 11, 2001, attacks, "is going to meet justice and he's going to meet his maker."
Gibbs and Axelrod criticized Republican opposition to the plan to hold the trial in a criminal court, saying no one complained when the previous administration of Republican President George W. Bush put terrorism suspects such as "shoe bomber" Richard Reid on trial in U.S. criminal courts.
Filed under: 9/11 • Crime • Justice • Larry King Live • Politics • Terrorism
Terror Investigation
U.S. officials say they knew as early as August of communication between extremists in Yemen and a person called "the Nigerian." Could the dots have been connected before the Christmas Day terror attempt? Would that have prevented Umar Farouk AbdulMutallab from getting on a flight to Detroit with explosive materials? Have we learned anything from 9/11? We'll ask Thomas Kean, chairman of the 9/11 commission. We'll also talk to three people who lost loved ones on 9/11.
Trouble for Charlie Sheen?
An EXCLUSIVE tonight: The lawyer for Brooke Mueller, Charlie Sheen's wife. Mueller called 911 on Christmas morning and reported her husband had a knife to her throat and was making threats. Now, she wants the restraining order against him modified so they can work things out. What's going on? We'll ask Yale Galanter, Mueller's attorney.
And we want to hear from you!
Do you think security in the U.S. has improved since 9/11?
Filed under: 9/11 • Celebrity News • Larry King Live • Terrorism
By Eric Fiegel and Kate Bolduan CNN
SOMERSET COUNTY, Pennsylvania (CNN) - A chain link fence now stands between Tim Lambert's land and the impact site of United Airlines Flight 93, which crashed here on September 11, 2001. The property has been in Lambert's family for almost 80 years.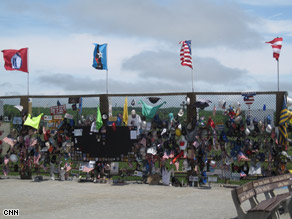 "My grandfather purchased about 200 acres in the 1930s, and he would cut timber and sell the timber off, and he would build cabins as well," Lambert says. "That's how he got the family through the Depression."
Lambert says he had no plans for the land, he just knew he wanted to hold on to it. "There's a lot of natural resources in this area - natural gas, coal," he says.
That all changed the day 40 passengers and crew died trying to take control of a Boeing 757 that had been hijacked by four terrorists as it took off from Newark, New Jersey, bound for San Francisco, California. It is believed the hijackers had intended crash the plane into the White House or the U.S. Capitol.
Plans for a permanent memorial have been in the works for years. Congress passed a law in 2002 instructing the National Park Service to establish a national memorial where the crash occurred. Part of it would be on Lambert's land.
In the seven years since, some of the most important land needed for the massive project has remained in limbo, producing an emotional debate among landowners, family members and the National Park Service. See plans for the proposed Flight 93 Memorial
At the center of the dispute is the government's plan to take the remaining land needed by using its power of eminent domain. The government can seize privately owned property to convert it to public use after paying the owner fair market value.
Lambert's land is key to the project. He owns 6 acres that are just feet from the crash site. He has yet to reach an agreement with the government to buy his land.
"Eminent domain was sort of dropped on us at the last second here," he says, "and it feels like we never even had a chance to talk about some of the issues that we needed to address during the negotiations."
Lambert still finds debris from the plane on his land.
"Red and blue wire all over the place," he says as he bends over to pick up a piece. "Here it is almost eight years later."
The National Park Service says time is running out if the memorial is to be ready by September 11, 2011, the 10-year anniversary of the terrorist attacks. It says it has to use eminent domain for 166 essential acres that it has been unable to purchase.
"We've held off using it until we've got here, really at the very last stage of this where we have no other choice," says National Park Service associate director Steve Whitesell.
The amount of land needed for the memorial is just over 2,200 acres, about 1,400 of which is near the crash site, where there will be a visitor center. The other 800 acres would create a buffer around the site to protect the rural setting.
That is where Randy and Linda Musser live - on more than 100 acres of land, 62 of them within the memorial park boundaries. The Mussers enjoy hunting, fishing and horseback riding on their land, which is about three-quarters-of-a-mile from the crash site.
"This eminent domain cloud hangs over this whole piece of property now," Randy Musser says, standing by a pond where he likes to fish. He was a member of a committee formed with Flight 93 family members to establish the boundaries of the park.
"If I knew the National Park Service was going to be able to use eminent domain to acquire property within the park boundary, I would had fought that at the time the park boundary was established to keep as much property out of the park as possible," Musser says.
The Mussers now fear that their land isn't safe from the government and say it's not needed for the memorial. "We have to play fair, we have to follow the rules and they just change the law to suit their own needs," says Linda Musser.
For Patrick White, vice president of Families of Flight 93, this project is a labor of love. White's cousin, Louis Nacke, was killed on United Flight 93. White is leading the effort to acquire all the land needed for the memorial.
"We're creating a place where the 40 heroes of Flight 93 can be revered and remembered," White said from his law office in Naples, Florida.
White says the negotiations with landowners has been challenging and supports the governments use of eminent domain.
"No one has ever questioned that there is a public purpose to these lands'" White says. "Their purpose became public the minute that those private citizens' lives and remains became part of those lands."
Lambert says he feels the same way as he walks just a few feet from where the plane crashed. "A lot of people lost their lives here and this is their final resting place. ... That's one thing I always keep in mind when I come here and I am walking through these woods."
This isn't just about money, Randy Musser says. It's about doing what's right, allowing landowners to continue to live on their land and use it the way they intended before that day. "That loss of freedom is probably the thing that bothers people more than anything else," he says.
Neither the government nor landowners will comment on how much money has been offered for the land yet to be acquired.
Patrick White said he remains confident the memorial will be completed in time. "Getting this done is a commitment that must be achieved. ... These are folks who as citizen soldiers stood up and we all need to recognize that at a place that's appropriate."
To make that happen, the National Park Service says it needs to start construction this November for a ribbon-cutting ceremony on September 11, 2011.
The courts may have the final say. Government lawyers are expected to file a lawsuit in Pittsburgh next week to condemn the property for public use.
Filed under: 9/11 • Larry King Live