Ann Coulter Tonight!
Ann Coulter's got something to say…about everything.   The conservative commentator tells Larry what she thinks about Obama, Palin, Stephen Colbert and more!  Ann Coulter and Marc Lamont Hill face off.
TAKE OUR POLL: Ann Coulter recently said that Sarah Palin has more influence than a president.
Do you agree?
And! What do YOU want to ask Ann Coulter?

Send your questions below.
Filed under: Ann Coulter
Washington (CNN) – House Majority Leader Steny Hoyer said comedian Stephen Colbert embarrassed himself last week when he testified before Congress.
"I think his testimony was not appropriate," Hoyer told FOX News Sunday host Chris Wallace.
Colbert, the popular host of "The Colbert Report" on Comedy Central, spoke in character before members of a House judiciary subcommittee Friday to bring attention to the conditions facing undocumented farm workers. Colbert often spoke sarcastically, prompting laughter in the hearing room and drawing Republicans' scorn.
Colbert was invited to testify by the subcommittee chairwoman, California Democratic Rep. Zoe Lofgren.
Hoyer said on FOX that the testimony "was an embarrassment for Colbert more than for the House."
"What he had to say I think was not the way it should have been said," Hoyer said. "If he had a position on the issues he should have given those issues."
Hoyer said this was his "personal opinion." His views differed from House Speaker Nancy Pelosi, who called Colbert's testimony "great."
"He's an American. He comes before the committee. He has a point of view," Pelosi said Friday. "It can bring attention to an important issue like immigration. I think it's great."
TAKE OUR POLL:  Do you think Stephen Colbert's Capitol Hill testimony on Friday was funny or inappropriate?
Filed under: Stephen Colbert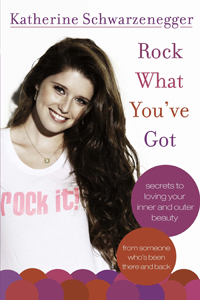 Editor's note: The following entry was written exclusively for the Larry King Live Blog by Katherine Schwarzenegger, author of "Rock What You've Got".
I was shocked when I read that only 2% of women describe themselves as beautiful.   Shocked, but I shouldn't have been, because young girls and women are constantly bombarded with messages telling them how things "should" look on the outside, rather than what's actually happening on the inside.   According to Merriam-Webster, beauty is defined as a "quality present in a thing or person that gives intense pleasure or deep satisfaction to the mind, whether arising from sensory manifestations, a meaningful design or pattern, or something else." If this is the definition of beauty, why is it that we all categorize beauty as being based only on the outer appearance, rather than the inner or overall picture?
All but 2% of females in our society may have a negative body image, but those who are particularly vulnerable today are young girls. How on earth can they develop a positive body image of themselves at a young age, when they're surrounded with "unreal" images they are encouraged to compare themselves to?    Images in their magazines, on their computer screens and TVs, on billboards, and everywhere else they turn – images of "flawless" and "perfect" women who are anything but real.   Those women look the way they look through airbrushing and Photoshopping, let alone starvation diets and the hours-long labor of high-priced teams of stylists and makeup and hair artists.  Girls and women look at these images and beat themselves up for not looking that way when they leave the house in the morning.    Hello?   With all of the pressures that young girls face today, why can't we  provide them with images of real women, to let them know that females come in all different shapes and sizes - not just a size 0?   Images that let them know that they, too, can walk out there with their heads help up high?
Filed under: LKL Web Exclusive
Filed under: Entertainment
Former President Jimmy Carter!
Why is he blaming the late Ted Kennedy – now – for blocking health care reform during his presidency?
Plus, what does he think of Sarah Palin, the Tea Party and President Obama's handling of the economy?
WE WANT TO HEAR FROM YOU!
Do you think Jimmy Carter
was a successful president?
Weigh in below.
Filed under: Pres. Jimmy Carter