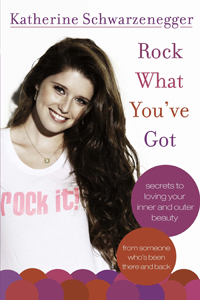 Editor's note: The following entry was written exclusively for the Larry King Live Blog by Katherine Schwarzenegger, author of "Rock What You've Got".
I was shocked when I read that only 2% of women describe themselves as beautiful.   Shocked, but I shouldn't have been, because young girls and women are constantly bombarded with messages telling them how things "should" look on the outside, rather than what's actually happening on the inside.   According to Merriam-Webster, beauty is defined as a "quality present in a thing or person that gives intense pleasure or deep satisfaction to the mind, whether arising from sensory manifestations, a meaningful design or pattern, or something else." If this is the definition of beauty, why is it that we all categorize beauty as being based only on the outer appearance, rather than the inner or overall picture?
All but 2% of females in our society may have a negative body image, but those who are particularly vulnerable today are young girls. How on earth can they develop a positive body image of themselves at a young age, when they're surrounded with "unreal" images they are encouraged to compare themselves to?    Images in their magazines, on their computer screens and TVs, on billboards, and everywhere else they turn – images of "flawless" and "perfect" women who are anything but real.   Those women look the way they look through airbrushing and Photoshopping, let alone starvation diets and the hours-long labor of high-priced teams of stylists and makeup and hair artists.  Girls and women look at these images and beat themselves up for not looking that way when they leave the house in the morning.    Hello?   With all of the pressures that young girls face today, why can't we  provide them with images of real women, to let them know that females come in all different shapes and sizes - not just a size 0?   Images that let them know that they, too, can walk out there with their heads help up high?
According to a survey conducted by The Dove Movement, more than 70% of young teen girls don't engage in their normal day-to-day activities when they feel badly about themselves.  This terrible statistic should be a wakeup call for our society.    Imagine not wanting to go to school because you think your appearance doesn't match that of a supermodel!  We should be figuring out ways to build young girls up, rather than tearing them down.   I think we as a society should stop focusing on unattainable, manufactured images of outer perfection and start focusing  on the quality of peoples' values, our accomplishments, and their heart.
Of course, I think the media has a huge responsibility in how young girls view themselves, but mothers do as well.   I would like to call on all mothers to give your daughter a compliment today – not for how she looks, but for who she is. How smart she is,  how great a job she did on that test, what a great daughter she is, what a loving heart she has, and what a beautiful person she is. Girls need more positive feedback and reinforcement in our world today.    Teach them the importance of inner beauty, and the outer beauty will come -– the outer beauty a woman has when she feels good about herself, feels worthwhile and deserving, and feels comfortable in her own skin   We as a society need to help our young girls with love and helping hands, so they can get there.
Filed under: LKL Web Exclusive