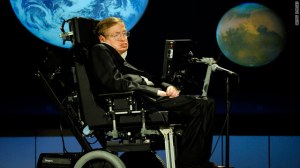 Friday night Prof. Stephen Hawking will be a guest on Larry King Live.  In his controversial new book, The Grand Design, Hawking contends a new unified theory (actually, it's a collection of theories), concludes God was not necessary to create the universe and there are, in fact, an untold number of universes.  Oh, he also tries to answer the ultimate questions of life, why we're here, and light topics like that.
So we want to hear from you: Do you think God created the universe?
Leave your comment, and we might read it during Friday's show.
Filed under: Larry King Live • Stephen Hawking