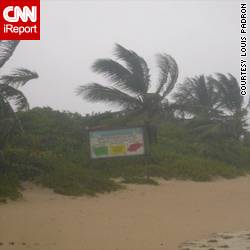 Hurricane Earl continues its forceful journey across the Atlantic Ocean, packing 135 mph (215 kph) winds and moving toward the east coast of the United States.
As of 4 a.m. ET Tuesday, the Category 4 hurricane was about 150 miles (240 km) north-northwest of San Juan, Puerto Rico, according to the National Hurricane Center in Miami, Florida. Earl was headed west-northwest at about 13 mph (21 kph).
The cyclone is expected to turn northwest later Tuesday and could approach the North Carolina coast by Thursday night or Friday morning.
Earl could dump another 1 to 2 inches of rain on parts of the U.S. Virgin Islands and Puerto Rico on Tuesday, the weather center said. In areas of higher elevations, the hurricane could leave a total of 12 inches of rain.
"These rains could cause life-threatening flash floods and mudslides," the hurricane center said.
Filed under: Weather