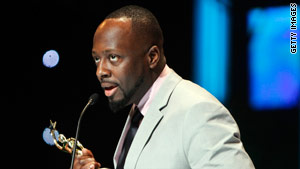 Don't miss Wyclef Jean on Larry King  Live Tonight at 9 p.m ET !
(CNN) - Six years ago, hip hop icon Wyclef Jean released a soulful tune called "President," in which he fantasized about what it would be like to lead a country.
That fantasy may come closer to reality when the Haitian-American recording artist announces exclusively on CNN's "Larry King Live" that he intends to run for president of Haiti.
Jean, who had been an outspoken proponent for Haiti through his Yele Foundation, told CNN Tuesday that plans to make the major announcement on King's show Thursday night.
Born in Haiti, Jean shot to fame in the mid-1990s as a member of The Fugees, a U.S.-based hip-hop and reggae group. He performs now as a solo artist.
He was one of the first celebrities to offer aid after the devastating earthquake there in January.
He told CNN late last month that he has filled out the necessary paperwork to make a run at the country's highest office.
In February, Jean said he has tried to promote Haitian issues in his work.
"I've always promoted Haiti in my music, since my first album with the Fugees where we talked about what Haitians are going through and about human rights for people around the world," Jean said. "This is how we came in the game, we never thought we were going to be music stars because the topics we talked about were not very popular in mainstream music."
Filed under: Politics • Wyclef Jean