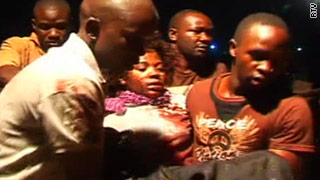 The death toll from bombings in Uganda rose to at least 74, authorities said Monday, a day after explosions ripped through two venues where crowds were watching the World Cup.
At least 71 people were hospitalized, police spokeswoman Judith Nabakooba said.
"If you want to fight, why don't you attack soldiers or military installations instead of fighting innocent people watching football?" said President Yoweri Museveni, who on Monday visited a rugby sports center where two of the blasts occurred Sunday.
The casualties included one American death, the U.S. Embassy said. The American killed was Nate Henn, according to an organization that works with children in Uganda.
In a post on its website, the organization - Invisible Children - said Henn was in the country working with Ugandan students. CNN could not independently verify the information.
"Nate was not a glory-seeker and never sought the spotlight. He asked not to be made a hero of," the post said. "But the life he lived inspires reflection and imitation."
Filed under: Terrorism