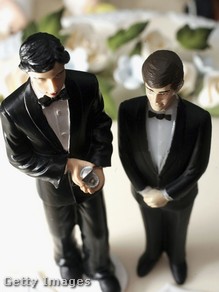 NBC's decision to allow gay couples to enter the "Today" show's annual wedding contest triggered a passionate online debate Friday, opening a new front in the fiercely waged battle over same-sex marriage.
The move came the same day as a federal judge in Boston ruled part of the Defense of Marriage Act unconstitutional, ratcheting up the legal fight over the rights of gays to marry. Activists on both sides are also keenly anticipating a court ruling on the legality of California's ban on gay marriage.
The popular "Today" wedding contest, now in its 11th year, is an unexpected forum for a debate over social change. The segment invites viewers to act as wedding planners, voting on the couple who will get to marry at Rockefeller Plaza, what they will wear and where they will honeymoon. The theme of this year's wedding, which is scheduled to be held Oct. 6, is "modern love."
"Today" announced its decision Wednesday night after executive producer Jim Bell met with representatives of the Gay & Lesbian Alliance Against Defamation, which had complained that the contest application provided only an option for "bride" and "groom."
NBC said the contest had been limited to heterosexual couples because the weddings take place in New York state, which does not issue wedding licenses to gay couples. But after GLAAD leaders noted that New York recognizes the wedding licenses of gay couples legally obtained in other states, producers decided to change the rules.
Filed under: Marriage