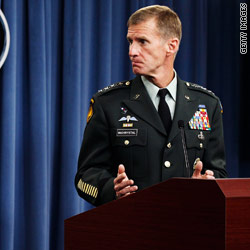 America's top military commander in Afghanistan is unlikely to survive the fallout from remarks he made about colleagues in a magazine profile to be published Friday, according to a Pentagon source who has ongoing contacts with the general.
Gen. Stanley McChrystal will likely resign Wednesday, the source said. McChrystal's fate is expected to hinge on a meeting scheduled Wednesday with President Obama, who was "angry" after reading the general's remarks in Rolling Stone.
The "magnitude and graveness" of McChrystal's mistake in conducting the interview for the article were "profound," White House press secretary Robert Gibbs said. Defense Secretary Robert Gates said McChrystal had "made a significant mistake and exercised poor judgment."
McChrystal apologized Tuesday for the profile, in which he and his staff appear to mock top civilian officials, including the vice president. Two defense officials said the general fired a press aide over the article, set to appear in Friday's edition of Rolling Stone.
"I extend my sincerest apology for this profile. It was a mistake reflecting poor judgment and should never have happened," McChrystal said in a Pentagon statement. "Throughout my career, I have lived by the principles of personal honor and professional integrity. What is reflected in this article falls far short of that standard."
NOTE: We'll be discussing this tonight on LKL!
This all started because of an article that appeared in 'Rolling Stone' magazine – Click HERE to read the full article
We had Lt. Col Tony Shaffer and Capt. Jon Soltz on the show last night talking about the fallout – here's a clip:
Filed under: Afghanistan • President Obama