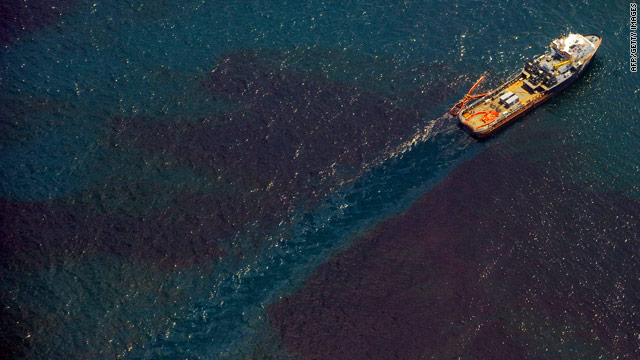 You've seen the devastation. Now it's your chance to help. Tune in Monday night for a special "Larry King Live, Disaster in the Gulf: How You Can Help" telethon featuring an all-star panel of guests joining forces in the Gulf region. Don't miss "Larry King Live," 8 p.m. ET Monday on CNN.
(CNN) - A BP estimate made after the explosion of the Deepwater Horizon noted that as much as 100,000 barrels per day could leak into the ocean if the blowout preventer and wellhead were removed, a higher worst-case scenario than previously reported.
According to an internal BP document released Sunday by Rep. Edward Markey, D-Massachusetts, BP believed that the worst-case scenario could be as high as 100,000 barrels, or 4.2 million gallons of oil per day.
The figure is the highest yet to surface regarding the leaking oil well. At the disaster's outset, BP claimed the leak was about 1,000 barrels a day, a number it later revised to 5,000 and then much higher. BP told the House Energy and Commerce Committee that the worst-case scenario was 60,000 barrels (2.5 million gallons) a day, lower than what the document states.
The document, submitted in May, maintains the 60,000 barrel estimate, but stipulates that if the "blowout preventer and wellhead are removed and if we have incorrectly modeled the restrictions, the rate could be as high as 100,000 barrels a day."
Markey said the document "raises very troubling questions about what BP knew and when they knew it."
Posted by: LKL Producer Hunter Waters
Filed under: Gulf Oil Spill