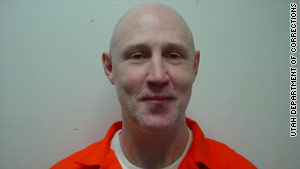 EDITOR'S NOTE: This is a story we're keeping an eye on today – and we're interested in hearing from you.  Do you think the Supreme Court should grant a last-minute stay of execution?
Washington (CNN) - A Utah death row inmate who would become only the third person to die by firing squad in the United States in 33 years appealed to the Supreme Court on Wednesday, seeking a last-minute stay of execution.
Ronnie Lee Gardner's lawyers filed the first of what are expected to be several appeals to the justices. He is scheduled to be put to death early Friday for the shooting death of attorney Michael Burdell during a botched escape attempt from custody in 1985 at a Salt Lake City, Utah, courthouse.
Among the claims the 49-year-old prisoner raises in his appeals is that he has been a death row inmate too long.
"He asserts that executing him now, after nearly 25 years on death row in Utah, so lacks retributive or deterrent value that it violates the Eighth Amendment," Andrew Parnes, Gardner's lawyer, told the high court. He did not return phone calls from CNN seeking comment.
Posted by: LKL Producer Hunter Waters
Filed under: Justice • Supreme Court