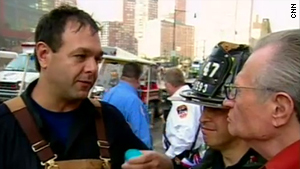 'Right now on CNN.com, viewers can vote for the top 5 moments in "Larry King Live" history, as part of the show's 25th anniversary celebration. Here, Larry King admits he's surprised by the way the voting is going so far. Later in the week Larry will offer his personal top 5 moments.'
By Larry King - I never thought that this show would last 25 years - I didn't even know it would be a success.
I took it on kind of a dare. There was a three-year deal with Ted Turner, but I had an option to get out after a year.
I never thought I'd be on worldwide, or we'd have the kind of impact we've had on elections and cable in general.
Now, we're the longest-running show ever on the same network, at the same time, with the same host. And now you guys are picking the top moments in our shows history. Here's what I think of the results so far, with a week to go in the voting.
CLICK HERE TO READ LARRY'S THOUGHTS ON YOUR TOP 5 MOMENTS ON LKL!!
Filed under: LKL 25