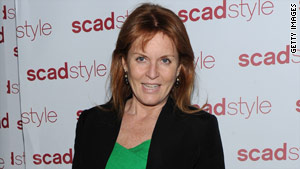 (CNN) - Britain's Prince Andrew Monday "categorically denied" knowing anything about his ex-wife's alleged offer to sell access to him after a British tabloid newspaper released what it says is a video of her doing so.
"The Duke of York categorically denies any knowledge of any meeting or conversation between the Duchess of York and the News of the World journalist," Buckingham Palace said, using alternate titles for Prince Andrew and Sarah Ferguson.
He has carried out his role as a British trade envoy since 2001 "with complete and absolute propriety and integrity," the palace said.
News of the World posted a video on its Web site Sunday that appears to show Ferguson accepting money from an undercover reporter in exchange for access to Prince Andrew.
Ferguson is also filmed on hidden camera telling the reporter - who was posing as a wealthy businessman - that a payment of £500,000 ($723,000) "opens doors" to Andrew.
She then shakes hands with the reporter after he accepts the deal.
In a statement issued Sunday, Ferguson apologized for the incident.
"I very deeply regret the situation and the embarrassment caused," the statement said. "It is true that my financial situation is under stress, however, that is no excuse for a serious lapse in judgment and I am very sorry that this has happened."
Filed under: Royals