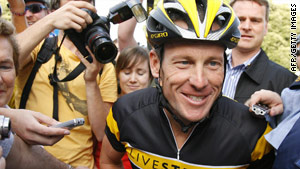 via reuters.com
Seven-times Tour de France winner Lance Armstrong has dismissed claims by former team mate Floyd Landis that he used performance-enhancing drugs.
Landis, who was stripped of his 2006 Tour victory after a positive test for testosterone, has confessed to using performance-enhancing drugs and accused others, including Armstrong, of doping.
"We have nothing to hide. We have nothing to run from," Armstrong, who was Landis's team leader at U.S. Postal, told reporters before crashing out of Thursday's fifth stage of the Tour of California.
"(The allegations) they're not even worth getting in to. I'm not going to waste your time or my time. I think history speaks for itself here. We've all followed this case (Landis) for the last four years."
Armstrong, who was taken to hospital after a heavy fall early in Thursday's stage, said Landis, had no credibility.
"This is a man that's been under oath several times and had a very different version," Armstrong said.
Filed under: Lance Armstrong • Sports