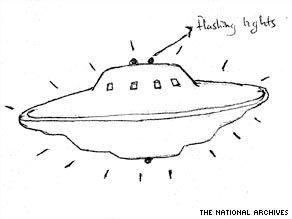 We're going to be discussing the possibility of extraterrestrial life on tonight's LKL – do aliens exist, and will we ever get to meet them??
Some say they've already been to Earth – and Investigation Discovery put together this list of TOP TEN UFO ENCOUNTERS!
10. Angel Hair of Oloron, France – One afternoon, in October 1952, dozens of witnesses reported seeing a very unusual sight in the sky — a cylinder surrounded by a group of discs, each of which had ribbons of white smoke emanating down from it.
9. Ronald Regans UFO Sighting – In 1974, Ronald Reagan, then governor of California and future U.S. president, mentioned to journalist Norman C. Miller of the Wall Street Journal that he had once seen a UFO.
8. Foo Fighters – Many people know the Foo Fighters as an American rock band, but the name was first used to describe unidentified flying objects frequently spotted by pilots and sailors during World War II.
Check out the other ones HERE – and I bet you can guess what the number one UFO encounter was...
Posted by: LKL Producer Hunter Waters
Filed under: Larry King Live • UFO