It's Larry King Live's 25th anniversary and we want to share with you some of our LKL memories, what it's like to work on the program and our favorite moments of the past 25 years of history-making television.  During the next few weeks, we'll be posting blogs from Larry's staffers as we count down to the program's 25th anniversary week, beginning May 31st.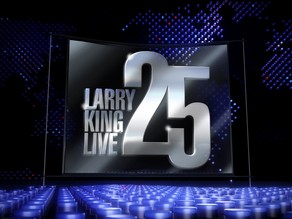 Let us know what you think and don't forget to rate YOUR favorite moments and enter our sweepstakes for a chance to win a trip to Los Angeles to meet Larry in person!
By LKL Senior Editorial Producer Carol Buckland
As Senior Editorial Producer for Larry King Live, it's my responsibility (and privilege) to pre-interview most of the guests who appear on the show.  It's a dream job.  If there's such a thing as a Ph.D. in learning about interesting individuals, this is the best place in the world to earn it.
The list of people I've pre-interviewed for LKL over the years now includes hundreds of names.  Each conversation has been special.  While I value all of them, the most memorable for me was the first time I had an opportunity to speak with Julia Child.
I am not a person who impresses easily.  I can honestly say I've kept my cool while speaking with world leaders, A-list movie stars, best-selling authors, business moguls and intellectual powerhouses who – if their I.Q. points could be transmuted into degrees of temperature – would be able to boil water with their brains. 
But talking with Julia Child?  Gushing fan girl does not begin to describe my attitude as I approached my first pre-interview with her in December of 2000.  I mean, I grew up watching The French Chef on PBS.  I cooked (with varying degrees of success) out of her books.  I laughed myself sick at Dan Aykroyd's impersonation of her on Saturday Night Live.  She was a role model to me.  An…idol.
I knew seven days ahead of time when I would be speaking with Julia Child.  Also aware of the pending pre-interview were every single member of my family, all my work colleagues, 99.9% of my friends, my dentist, my doorman, the produce guy at my local supermarket and just about anyone to whom I happened to speak in the week leading up to the big phone call.
Julia Child did not disappoint.  She accepted my babbling expressions of admiration with a brisk laugh, then settled in to chat about her incredible experiences (she was then 88) and her philosophy of food – both the preparing and partaking of it.  She recalled, in drool-worthy details, some of the haute cuisine she'd tasted over the decades.  She also cheerfully admitted to enjoying Pepperidge Farm Goldfish and the occasional In-and-Out Burger.  Her love for her late husband, Paul, was palpable when she spoke about their many years together.  
Near the end of our conversation, she said something to me that she later – in her trilling, unique-as-a-fingerprint voice – echoed during her interview with Larry.  "Personally," she observed with a laugh, "I'm not sure life would be worth much without red meat and gin!"
I don't drink.  And if I did, I seriously doubt it would be gin.  And, back in December of 2000, I was trending toward vegetarianism.  But under the thrall of Julia Child, I was ready to embrace the belief that a bloody good hunk of beef and a belt of Beefeaters, Bombay Sapphire, or Tanqueray were the keys to a fulfilled existence.
Filed under: LKL 25