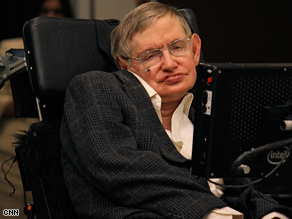 ARE ALIENS A THREAT? WATCH THE DEBATE ON LARRY KING LIVE FRIDAY  @ 9PM ET!
So, the world's most famous astrophysicist has some advice about whether we should or shouldn't try to make contact with creatures from outer space:
Don't do it, Stephen Hawking advises.
It would be much better for humans to keep a low profile, he says. There's a good chance we don't want aliens to come calling, Hawking says, because they very likely wouldn't be the cuddly, ET types we hope for.
"If aliens visit us, the outcome would be much as when Columbus landed in America, which didn't turn out well for the Native Americans," Hawking warns in a new Discovery Network TV series.