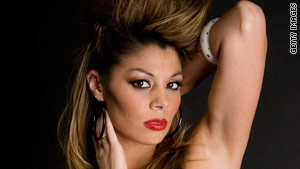 The cocktail waitress whose voicemail from Tiger Woods helped unravel the golfer's sex scandal last fall was arrested in West Hollywood, California, Wednesday night on several driving-related warrants.
Jaimee Grubbs, 24, was expected to spend the night in the Los Angeles County Sheriff's West Hollywood jail unless she posted bail of $30,309, according to a statement from the sheriff's department.
She was pulled over in West Hollywood by deputies who traced the tag on her 2004 Mustang and realized she had three outstanding warrants, all for previous driving-with-a-suspended-license arrests, the statement said.
When she was arrested on February 4 in Beverly Hills, she spent a day in jail before posting a $250 bond, jail records said.
Filed under: Tiger Woods