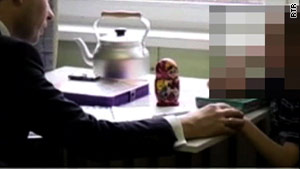 This is a story we're going to be discussing on tonight's show.  We're interested to know what you think, and if you have any personal adoption stories you'd want to share with us.
A 7-year-old Russian boy adopted by an American family last year was put on a return flight to Moscow this week because of violent and psychotic behavior, according to a Tennessee grandmother.
The child showed up unannounced at Russia's child protection ministry Thursday, triggering an international investigation.
Russian Foreign Minister Sergey Lavrov told a Russian TV channel on Friday that his country has banned future adoptions by Americans until the United States signs a new agreement to regulate them.
Posted by: LKL Producer Hunter Waters
Filed under: Adoption • International • Larry King Live