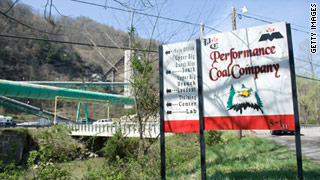 A bore hole was drilled early Wednesday into the area of a West Virginia coal mine where four miners, unaccounted for following an explosion Monday, are expected to be found, Gov. Joe Manchin said.
Pipes were lowered into the hole, and officials banged on the pipes in an effort to contact those underground, but there was no response, Manchin said.
The hole punched through about 4:15 a.m. ET, the governor said. Two more holes were under way, and a fourth is planned.
"There's a sliver of hope, but we know that the odds are not in our favor," West Virginia Gov. Joe Manchin told CNN.
"Everyone's going to cling to the hope of a miracle," he told reporters. "That is the true agony of this."
NOTE – Miner Stanley Stewart will be among our guests tonight discussing the latest in the rescue effort – Stewart was between 300 – 400 feet below the surface preparing for his shift when the explosion occurred.  Read more about his story HERE and be sure to tune in TONIGHT at 9pmet.
Filed under: Breaking News • Larry King Live