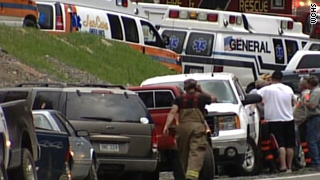 It could take up to two days to drill bore holes into a sprawling West Virginia coal mine, scene of a massive blast that left at least 25 miners dead, a mining official said Tuesday.
Bulldozers will be used to clear a path through the hills and bring in equipment to reach the affected part of the Upper Big Branch Mine, Kevin Stricklin of the U.S. Mine Safety and Health Administration said.
The holes will be drilled 1,200 feet down to help ventilate the mine and collect samples. Rescue crews early Tuesday halted their efforts to reach four miners still unaccounted for, as concentrations of methane and carbon monoxide posed a safety risk, Stricklin said.
"I think it's a dire situation but I do think that it is a rescue operation and it will be that way until we confirm that these four additional people are not living," he said earlier. "I mean, there are miracles that go on."
"Basically all we have left," Stricklin said, "is hope."
*NOTE – We'll be discussing the latest on the mine explosion on tonight's LARRY KING LIVE – tune in at 9pmet!
Filed under: Breaking News • Larry King Live