Los Angeles, California (CNN) - Federal authorities have charged a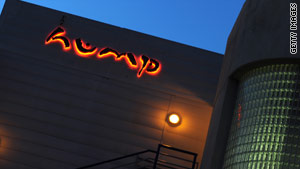 trendy Santa Monica sushi restaurant with serving whale meat - an investigation that was spurred by the team behind the Oscar-winning documentary, "The Cove."
Prosecutors charged Typhoon Restaurant Inc., the parent company of The Hump, and one of its chefs - Kiyoshiro Yamamoto, 45 - with the illegal sale of a marine mammal product for an unauthorized purpose.
While it is considered a delicacy in Japan and some other countries, meat from whale - an endangered species - is illegal to consume in the United States.
The misdemeanor charge carries a federal prison sentence of up to a year and a fine of up to $200,000 for the company, said Thom Mrozek, spokesman for the U.S. Attorney's Office.
Lawyers for Typhoon could not be reached for comment. But the restaurant told the Los Angeles Times it accepts responsibility and will pay a fine.
Filed under: CNN