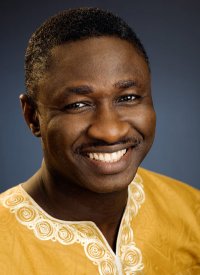 This is a LKL Blog Exclusive by Frederick Nnoma-Addison, President & CEO of the Washington, DC based Africa Media-Image Project, an African interest news and media production organization working to bridge the information gap between the United States and African countries. He is the Author and publisher of a book that celebrates 50 years of U.S. – Ghana/Africa relations.
With several 10-hour direct flights to many capital cities on the continent, Africa isn't as far from the U.S. as many Americans perceive it to be. The flight time from Washington, DC to Accra, Ghana is the same as that from Washington, DC to Honolulu, Hawaii. This comparison of physical distances also holds true for the virtual distances between the two regions, thanks in part to free markets and a globalized economy. Today we in America are able to patronize African coffee, jewelry, clothing, chocolates, roses, crude oil and thousands of other products as though they originated from our backyards while those in Africa benefit from U.S. government and private sector investments on a daily basis. As individuals and nations we are more closely linked than stereotypes would have us believe.
U.S. trade with sub-Saharan Africa has more than doubled since the African Growth & Opportunity Act (AGOA) was signed into law in 2000. According to the U.S. Department of Commerce (2008 report), U.S. imports from sub-Saharan Africa alone exceeded $86 billion, more than quadruple the amount in 2001. During the 2009 AGOA Forum in Nairobi, Secretary of State Hillary Rodham Clinton acknowledged the interdependence between the United States and Africa with the following words, "America is Africa's largest trading partner."
The now outdated concept of a distant, so-called 3rd world (mostly used to describe Africa), is just one example of how people in economically advanced countries like the United States view themselves as being separated from Africa and the rest of the world. Of course skewed news media coverage of the African continent is partly responsible for this mindset. A paragraph from President Barack Obama's Accra speech, July 11, 2009 accurately highlights the new realities of international relations and the bonds we share as individuals and nations in a much smaller, global community.
For more information on the 50 years of U.S. – Ghana/Africa relations, click HERE
Filed under: Africa • International • LKL Web Exclusive