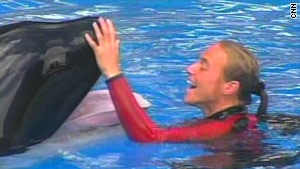 SeaWorld has scheduled a Friday news conference to discuss an accident that left a trainer dead after she was attacked by a whale, a spokesman said.
Dawn Brancheau, 40, died Wednesday from multiple injuries and drowning after a 12,000-pound whale grabbed her ponytail and pulled her underwater in front of shocked onlookers at Shamu Stadium, the Orange County Sheriff's office said Thursday.
She was "pulled underwater for an extended period of time," Chuck Tompkins, SeaWorld's curator of zoological operations, told CNN's "American Morning."
Tompkins said Brancheau was interacting with the whale, Tilikum, in knee-deep water when the animal grabbed her hair. Rescuers were not immediately able to reach her because the whale was too aggressive, the sheriff's office said.
She was recovered by SeaWorld staff members after Tilikum was coaxed into a smaller pool and lifted out of the water by a large platform on the bottom of the smaller tank, authorities said.
"While this incident remains the subject of an ongoing death investigation, there are no signs of foul play," the sheriff's statement said. "All evidence and witness statements indicate that the death was a tragic accident."
Filed under: Larry King Live