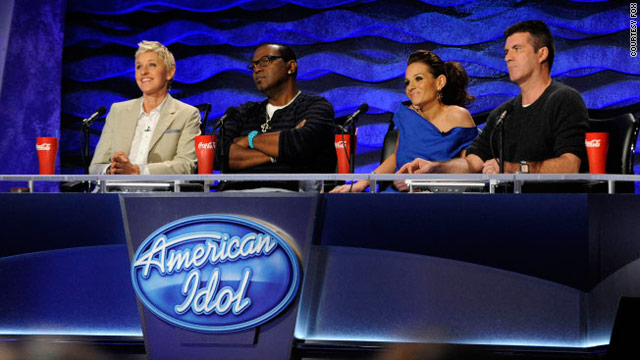 Even before Ellen DeGeneres took her seat on "American Idol," the roar began.
Cries of "What does she know about music" and "Bring back Paula Abdul" lit up blogs and message boards. Then the next shoe dropped - anchor judge Simon Cowell announced that the ninth season would be his last.
Fans had barely adjusted to the addition of a fourth judge, Kara DioGuardi, the season before. Once it was announced that DeGeneres was coming onboard, the naysayers were even more perturbed.
The whole situation brought DeGeneres into a whirlwind of drama, exacerbated by rumors that she and Cowell don't get along (both deny that's the case) and initial performances by contestants that have been less than stellar.
Now, after fans have had a week to check out DeGeneres' live judging of the talent competition, the talk show host and comic appears to be almost as polarizing as last season's runner-up, Adam Lambert.
"I knew it was going to be bad as soon as they announced it," said Brian Wheaton, who started a Facebook group called "Ellen is going to RUIN IDOL!"
"Why bring her on?" Wheaton said. "Because she's funny? We had plenty of humor before with Paula and Simon."
Change is never easy, but it's even more difficult for an enterprise that has a multitude of diehard fans and has ranked No. 1 in the ratings for the past five seasons. For a show like "Idol," which leans so heavily on formula, tweaking the dynamic can prove to be tricky.
Filed under: American Idol • Ellen DeGeneres