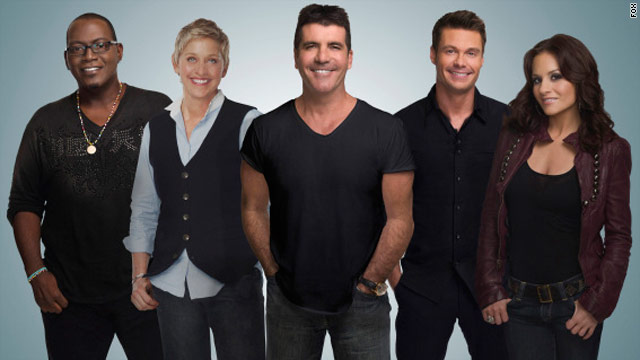 As the top 12 guys got ready to take the stage, the judges and Ryan seemed to be aware that nerves may have sabotaged the women's performances the night before. Kara advised the singers to imagine themselves into a safe, comfortable place. "Like Little House on the Prairie," said Simon.
A little house must be hard to find on Idol. The boys, like the girls, were a frustrating bunch.
Tim Urban, who was brought back at the last minute when Chris Golightly was eliminated because of contract issues, was the big question mark of the night. It would have been nice if he triumphed — he looks so much like a cute, young pop singer — but on OneRepublic's "Apologize" his voice kept creeping into a higher, squeaky register, as if someone were stepping on his foot. Simon congratulated him for returning, then — bang! — said he still didn't deserve to be in the top 12. For now, at least, "people will want to vote for you because you're adorable," said Ellen. Dude looked crushed. And he'll probably stay, despite or because of this stumble.
Filed under: American Idol