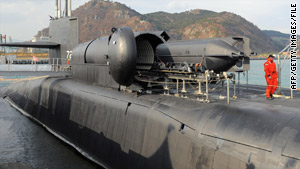 Secretary of Defense Robert Gates has notified Congress of plans to allow women to serve aboard submarines, a Defense Department official said Tuesday.
Letters of intent were sent Monday to Congress, which has requested briefings on the matter, said the official, who asked not to be identified. There will be no vote on the matter in Congress.
The change was recommended by the chief of naval operations and the secretary of the Navy in addition to Gates, the official said, adding that there was no opposition to the move among Navy leaders.
A phased approach is being considered under which officers - who already have separate living quarters - would be the first to go co-ed, followed by crews, with the women bunking together, the official said. Crew space would have to be modified prior to that happening, the official added.
The submarines expected to carry women initially would be the larger ones - nuclear-powered, missile-carrying submarines known as SSBN and SSGN, the official said.http://larrykinglive.blogs.cnn.com/wp-admin/post-new.php
DO YOU AGREE WITH THIS – SHOULD WOMEN BE ALLOWED TO SERVE ON US NAVY SUBMARINES OR SHOULD THE BAN REMAIN?  LET US KNOW WHAT YOU THINK!
Filed under: Military