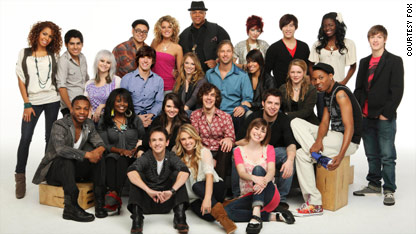 We once again have a Lambert on "American Idol."
The remaining top 24 were revealed on Wednesday night and Alex Lambert (apparently no relation to Adam) made it through along with Lacey Brown, Crystal Bowersox, Janell Wheeler, Katie Stevens, Michelle Delamore, Siobhan Magnus, Lilly Scott, John Park, Joe Munoz, Ashley Rodriguez, Haeley Vaughn, Paige Miles, Tyler Grady, Jermaine Sellers, and Andrew Garcia.
And since "Idol" wouldn't be "Idol" without some controversy, contestant Chris Golightly, who made it into the Top 24, was replaced at the last minute by contestant Tim Urban (who I'm going to go out on a limb here and say is not related to Keith). According to a press release from Fox, it was determined that Golightly was ineligible to continue in the competition.
Fellow Hollywood week contender Samantha Musa tweeted that she had spoken to Golightly – who touched hearts with his back story of being in foster care – about his disqualification.
"He was disqualified yesterday, after already being told he was in the top 24, over some bogus old contract," Musa tweeted on Wednesday. "The contract expired, but they disqualified him for not telling them."
Fox hasn't given any details as to why Golightly was tossed, and Musa questioned why he was let go instead of "Big Mike" Lynche – whose father reportedly broke the "Idol" confidentiality agreement by blabbing about his making it into the Top 24 – was not.
Filed under: American Idol • Larry King Live