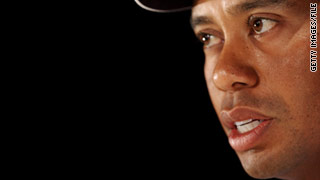 Six-time former major champion Nick Faldo has said that "big" questions surrounding the future of Tiger Woods still remain despite the world number one apologizing for his "irresponsible and selfish behavior" in a public statement on Friday.
The apology from Woods - which was broadcast around the world from the headquarters of the PGA Tour in Florida - was the first public statement from the American golfer since the 34-year-old admitted to "transgressions" following a Thanksgiving car-crash.
However,  Faldo said the comments had done little to answer key questions: "It was a pretty complete apology and very embarrassing for him, to take the world stage and to apologize for what he has been up to.
"However, he still left the big question that we as golfers all wanted to know and that's when he will come back to the course.
**NOTE** In addition to Sir Nick Faldo, we'll be talking with Dr. Drew Pinsky, Sportscaster Jim Gray and former NBA star John Salley – all on Tiger Woods' comments today! Tune in at 9pmet
Filed under: Larry King Live • Tiger Woods