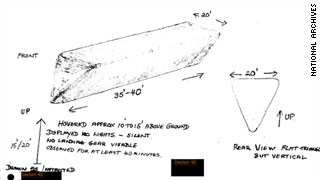 A hovering Toblerone and a silky-white residue join near-misses and strange lights in the British government's latest release of its files on UFO sightings.
Made public Thursday, the files are the fifth collection of records about unidentified flying objects to be released by the Ministry of Defence and The National Archives as part of a project to open the files up to a wider audience.
Thursday's release is the largest so far, totaling more than 6,000 pages of material from 1994 to 2000.
The files include a sighting by a man in Birmingham, England, in March 1997. He said he came home from work at 4 a.m. to see a large blue triangle-shaped craft hovering over his back garden.
It was silent but caused dogs in the neighborhood to bark, the report said. It "shot off and disappeared" after about three minutes, the report said, leaving behind a "silky-white substance" on the treetops, some of which he saved in a jar.
It was not clear what happened to the jar and its contents.
Filed under: International • UFO