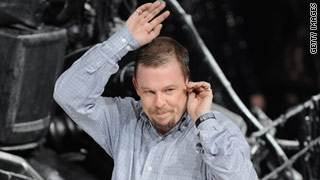 London, England (CNN) - Fashion designer Alexander McQueen hanged himself in his wardrobe and left a suicide note, a coroner told a London inquest Wednesday.
McQueen, 40, was found dead at his London apartment Thursday. The cause of death was asphyxia and hanging, said coroner's officer Lynda Martindill.
A police officer told the inquest that McQueen's death was "nonsuspicious," according to Martindill.
"The coroner said a note had been found and is being looked at by the police," Martindill said, without offering details about the note.
The coroner adjourned the inquest until April 28 in order to complete the full post-mortem report, she said.
McQueen, who had dressed stars from Sarah Jessica Parker and Nicole Kidman to Rihanna and Sandra Bullock, killed himself nine days after the death of his mother. He expressed his devastation at her death on his Twitter account days before he died.
Filed under: International