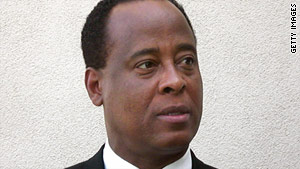 NOTE: Joe Jackson, Michael Jackson's father, will join us TONIGHT to give us his thoughts on this story!  Tune in at 9pmet/6pmpt for this exclusive interview!
Criminal charges relating to Michael Jackson's death last summer will be filed Monday, Los Angeles prosecutors said.
The District Attorney's Office did not say what the charges would be or who would be charged. The lawyer for Dr. Conrad Murray - Jackson's personal physician, who was with him when he died - has said he expected Murray to be charged.
It was unclear whether Los Angeles police would arrest Murray or whether the doctor would be allowed to turn himself into authorities for booking and a bond hearing Monday.
Charges were expected to be filed on Friday, but they were delayed because prosecutors and Murray's chief defense lawyer, Ed Chernoff, failed to reach agreement on a surrender deal for the doctor, a law enforcement source with detailed knowledge of the talks said.
A surrender, in which a defendant turns himself in at a police station for booking, would allow the doctor to avoid being seen in public handcuffed and escorted by police.
"An arrest of Dr. Murray would be a waste of money, time and resources," Chernoff said last week. "We've always made it clear: ' You tell us where; we'll be there.' "
The doctor traveled to Los Angeles at the end of January from his home in Houston, Texas, in expectation of possible charges, his lawyer said.
Filed under: Larry King Live • Michael Jackson