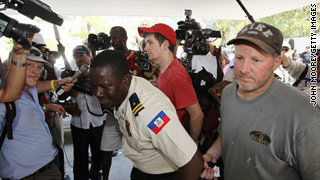 NOTE: Tune in tonight when we speak with the PRIME MINISTER OF HAITI – we'll be talking about this story and the latest from Haiti – what do you want us to ask the Prime Minister? Let us know!
Ten Americans who were detained last week while trying to take 33 Haitian children out of the country were charged Thursday with kidnapping children and criminal association, a government official said.
Information Minister Marie Laurence Lassegue's announcement came shortly after the five men and five women left a hearing at the prosecutor's office.
The Americans - members of a church group - got into two vehicles, which were driven back to the jail where they have been held since they were taken into custody. Appearing solemn, they did not respond to questions from reporters. A few sang hymns.
The Americans were turned back Friday as they tried to take the children across the border into the Dominican Republic without proper documentation. They said they were going to house them in a converted hotel in that country and later move them to an orphanage they were building there.
The Americans have said they were just trying to help the children leave the earthquake-stricken country.
Some of the detained Americans have said they thought they were helping orphans, but their interpreters said Wednesday that they were present when group members spoke with the children's parents. Some parents in a village outside Port-au-Prince said they had willingly given their children over to the Americans, who promised them a better life and who said they could see their children whenever they wanted to.
Filed under: Haiti Earthquake • Larry King Live