**TUNE IN TONIGHT AT 8 p.m. ET – A SPECIAL 2-HOUR "LARRY KING LIVE – HAITI: HOW YOU CAN HELP"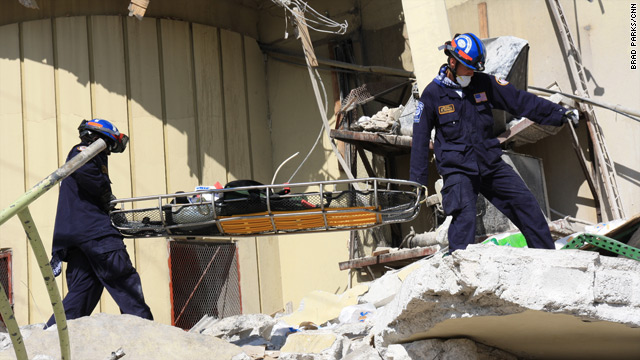 The dead lie in piles on street corners, covered by flimsy pieces of cardboard boxes. The living crowd tent cities, as many as 20,000 awaiting food, water and medicine.
Amid the heartbreak that permeates the Haitian capital of Port-au-Prince rescue crews continued to offer glimmers of hope as they combed through mounds of concrete and pulled more people out alive.
Rescue crews plan to look for more survivors in the rubble Monday, while aid agencies step up their efforts to tend to those above ground.
By Sunday, more than 60 people had been rescued, including five who were freed from the rubble of a grocery store after a 24-hour effort to reach them.
Filed under: Haiti Earthquake • International