NOTE: Tila Tequila will be our EXCLUSIVE guest on LKL Tuesday.
(PEOPLE.com) - First grief, and now anger.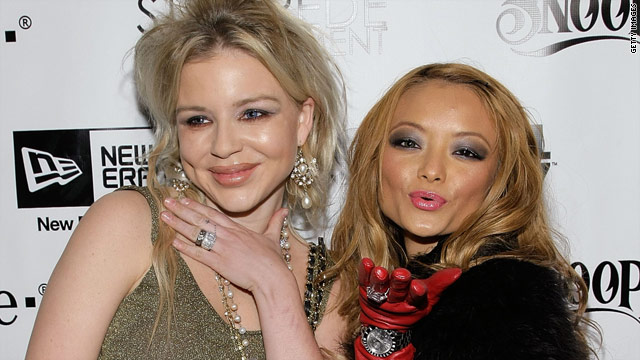 Casey Johnson's longtime girlfriend Courtenay Semel has broken her silence after the heiress's death to lash out at another woman close to Johnson - reality star Tila Tequila.
"The thing I find the most sickening is that the media is giving [her] the one thing she craves: attention. Tila, you knew her for a week," Semel told PEOPLE.
Just weeks beforeJohnson was found dead in her Los Angeles home at age 30, Johnson made tabloid news when she said she was engaged to Tequila, the star of MTV's over-the-top matchmaking show "A Shot at Love with Tila Tequila."
And it was the 28-year-old Tequila (real name Tila Nguyen) who announced Johnson's death on her Twitter page.
Since then, Tequila has posted a series of bizarre messages on Twitter about her relationship with Johnson, and attacked Nicky Hilton and Bijou Phillips in an apparent dispute over what to do with Johnson's dogs. (Tequila has declined interview requests.)
Billy Bush, host of Access Hollywood, Tweeted in response, "Gross ... claims 2 b mourning fiancée but seems 2 b pumping her new gossip blog."
Semel, the daughter of the former chairman of both Yahoo! Inc. and Warner Bros., Terry Semel, had her own share of gossip-column-making spats with Johnson, but says the focus now should be on dealing with the loss.
Tequila is defending herself on the Internet, fighting off claims she ignored warning signs in the days leading up to Casey Johnson's death.
"I was the ONLY one who was constantly checking on my Wifey cuz I knew something was wrong," she wrote on Twitter on Thursday. "I was out of town 2 meet my Brother. I have all the text messages to prove it!"
Filed under: Crime • Entertainment • Larry King Live