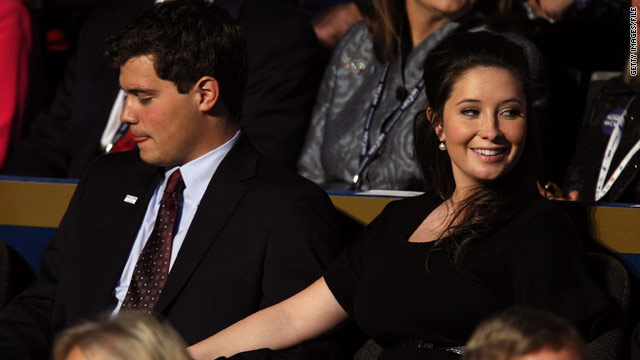 (CNN) - An Alaska judge has denied Bristol Palin's request that her court fight with ex-boyfriend Levi Johnston over custody of their son be kept private to avoid a "media circus."
The daughter of former Alaska Gov. Sarah Palin is seeking full custody of 1-year-old Tripp, contending that Johnston is too immature to be a responsible father and that his mother's felony drug conviction makes her a danger to the child.
Bristol Palin filed for full custody in November, but Johnston is seeking shared custody. Both parents are 19. Their teenage relationship fell under an intense public spotlight after Sen. John McCain picked Sarah Palin as his vice presidential running mate in August 2008.
Court documents, now unsealed, were published online Monday by the Anchorage Daily News.
Johnston joined the family at the Republican National Convention after the campaign confirmed that Bristol, then 17, was five months pregnant with his child. The couple broke off their engagement about two months after their son's birth in December 2008.
Johnston has asked that the case conducted in public to protect himself from Sarah Palin, whom he said was "powerful, politically ambitious and has a reputation for being extremely vindictive." But Bristol Palin's request that the case be sealed said public proceedings "will turn this custody case into a media circus which is not in Tripp's best interest."
"In this day and age of the Internet, media stories remain available for years, even decades, after they are first published, and anything printed in the media (whether it is true or not) will be available to Tripp when he is old enough to read," Palin said in a sworn affidavit.
She said Johnston wanted a public case so he could "continue to make a spectacle of this custody dispute for his own self-promotion." Johnston was set to take part in a reality show in Alaska, she said.
"I do not believe that it would be in Tripp's best interest for Levi's reality show to be filming this case as it unfolds, or for Levi Johnston to be capitalizing off of this custody case through his reality show," Palin said.
Filed under: Larry King Live • Politics